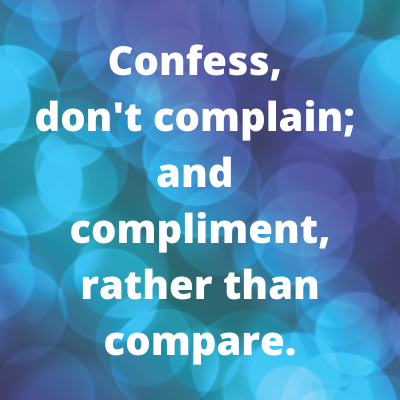 Having trouble with friends, family, or other relationships?
None of us gets it right every time. But it helps to have some guidelines in case you're missing what could be obvious to everyone else. Last week I gave you five ways to improve your relationships. This week, here are five more ways to be a better wife, mom, friend or woman of God:
1. Be a listener who is willing to change.
Anyone can talk another person's ear off. But being a true listener is rare. Learn to listen with an open heart that hears, and therefore really sees others. Every relationship encounters tension, pressure, and issues that need to be talked through. If you are confronted with an issue someone wants to talk about, listen with an open heart to learn what you can. Don't be quick to justify or excuse yourself (or worse, try to get even by saying "but remember that time you did the same?"). Listen with a heart for how you can change and it will draw you closer to the person you're having difficulty with.
2. Confess, don't complain.
In his devotional, God's Best for My Life, the late Pastor and Author Lloyd John Ogilvie wrote that we should confess every time we're tempted to complain. When someone does something you don't like, rather than complain about it confess your heart that is critical and wants to complain, and then confess to the Lord the times that you have been guilty of doing the same thing that you're complaining about. It's possible the things that bother you about other people are the very same things you do, yourself, but just don't notice or want to admit. When you complain less and confess more, others just may find you are more pleasant to be around.
3. See beyond one's hurtful words.
People who hurt, hurt people. Therefore, if someone lashes out at you with angry words it is very possible it is their hurt that is lashing out in response to pain that someone else inflicted. It used to be my default response to feel the need to explain to someone when they hurt or offended me. But lately I've been asking God to give me a heart to see the wounds behind another person's hurtful words. That causes me to feel compassion rather than contempt toward anyone who offends me.
Proverbs 19:11 says, "Good sense makes one slow to anger, and it is his glory to overlook an offense" (ESV). Learning to let go of an offense so that you can really see the hurt behind one's actions or words toward you will improve any relationship – especially with someone who often hurts you or with whom you tend to hurt without realizing it.
4. Stop comparing and start complimenting.
It's natural for women to compare themselves to others so we can come out ahead or so we can belittle ourselves. Both of those reasons for comparing are damaging as well as tiring to other people. You can improve your relationships when you give up your desire to be perfect and your tendency to compete or compare, and simply be happy for others' accomplishments. Seek to sincerely compliment, rather than quietly compete.
5. Love like Jesus does.
I know it sounds simple and almost trite, but it's still the most practical relationship advice. Try it. Jesus loves without condition. Jesus loves sacrificially. Jesus loved without expecting love in return. When you love your spouse, friend, child, or parent that way it can't help but improve your relationship because who doesn't want to be loved the way God loves them? If it doesn't change them, though, it will always change you and make you a person who is more familiar with Calvary love.
I'm not advocating love without boundaries. Jesus apparently knew how to erect boundaries around those who only wanted something from Him. He was gentle in His firmness and firm in His gentleness. There were times He was in-your-face confrontational because He knew others' motives (Matthew 3:7). Because He could see into people's hearts, He didn't play the games of the religious elite or let them trap Him or trip Him up (Mark 12:13-17). If you are in a toxic relationship or know someone's motives are to use or manipulate you, the best thing to do to improve that relationship is sometimes to end the relationship. As an overall rule, don't take the toxicity. Love like Jesus did. He exercised love with dignity, but also knew when to be humble so God would be glorified.
For more on strengthening your relationships with God and others, see Cindi's books Letting God Meet Your Emotional Needs, When a Mom Inspires Her Daughter, and 12 Ways to Experience More with Your Husband.