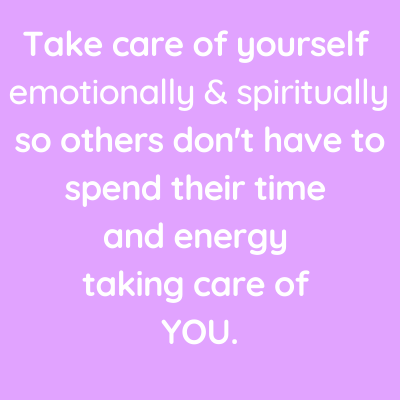 Tension is real. Baggage is destructive. And relationships can be outright difficult. But, it's possible to improve every one of your relationships this year.
It's not enough to just be a good friend, girlfriend, wife, mom. or grandmother, or even a good boss or employee. You can be all of the above with some simple ways to care for yourself in a way that ultimately helps you care more for others.
Here are five ways to improve all of your relationships:
Rely on God to meet your emotional needs.
Relationships become strained when you look to others to meet certain emotional needs that only God can meet. When you seek your affirmation, sense of identity or purpose from someone else that becomes a burden too heavy for them to bear. Find your identity and reason for living in who you are in God's eyes and all that you have when you are His (Ephesians 1). Don't expect someone else to relieve your fear of being alone. Find your security in the fact that God will never leave you nor forsake you (Hebrews 13:5).
When you depend on God to fill your emotional tank, you'll have the reserves to build up others and affirm them rather than drain them dry with what you need. Someone who sucks the life and energy out of others is not someone others enjoy being around. Make sure you are letting God meet your emotional needs, not putting an unrealistic expectation on those closest to you.
2. Cut the worry.
Seriously. No one wants a worrier in their life. To adult children, a parent who worries is exhausting. To a spouse, one who worries is all consuming. To a friend, one who worries can be downright annoying. Philippians 4:6-7 specifically tells us "Don't worry about anything; instead, pray about everything. Tell God what you need, and thank him for all he has done. Then you will experience God's peace, which exceeds anything we can understand. His peace will guard your hearts and minds as you live in Christ Jesus" (NLT).
Instead of being a panicked worrier, be a prayer warrior and show others that when you – or they – have a concern, you will not worry, but immediately take it to God in prayer. Who wouldn't want a friend, spouse, parent, or child like that?
3. Take care of yourself.
No one wants to be around someone who is stressed, over-worked, and running on empty. If you're not exercising proper boundaries around your time, schedule, and relationships, you can come across as someone who is distant, too busy to care, or high maintenance without realizing it.
If you're constantly scrolling through your phone when you're in the presence of others, you are letting them know your work, your social media networks, or constant interruptions from others are more important than they are. Take care of yourself by giving yourself permission to be away from work, your phone, or distractions. Invest in your self-care with some physical pampering like a massage or meaningful time away with those you love. You may even choose to see a biblical counselor or therapist to "unload" on so you don't unload on others. People who don't take time to rest, slow down, and take care of themselves (physically, emotionally, and spiritually) can tend to drain others. So be a builder, not a drainer, by taking time to care for yourself so others don't have to spend their time and energy caring for you.
4. Be grateful.
If you are one who constantly sees the glass as half-empty, waits for the other shoe to fall, or points out why something is not a good plan (without coming up with a better one), you may be seen as a critical person or negative energy in the room. First Thessalonians 5:18 tells us to "give thanks in all circumstances; for this is the will of God in Christ Jesus for you" (ESV).
Do you realize you are actually living out the will of God simply by being grateful in all things? You can also be improving your relationships at the same time because a positive attitude and grateful spirit can lift others' moods and change the perspective and overall tone of an entire meeting, conversation or relationship.
5. Be humble.
Pride offends, injures, and can even devastate relationships. Pride often leads to resentment and bitterness which separates friends. Pride rears its ugly head when someone tells you something about yourself that you don't want to hear or when you feel slighted in some way. The opposite of pride is humility. I'm not implying you should tolerate cruel treatment or inconsiderate behavior. Rather, I am suggesting you maintain a humble heart that seeks to be Christ-like and drama free in your actions and reactions.
Scripture tells us: "Do nothing from selfishness or empty conceit, but with humility consider one another as more important than yourselves" (Philippians 2:3). That's the ingredient to a healthy relationship…one in which you give, rather than take. A person of pride takes, must always be first, and constantly feels entitled. A person who is humble is a servant and habitually gives. Another way to say this is "treat others as well as (if not better than) you'd like to be treated."
Which one of these relationship helps do you find most helpful and are willing to focus on this week? I'd love to hear it in the comment section below.
(For help with your relationships now, see my books, Letting God Meet Your Emotional Needs and Drama Free.)