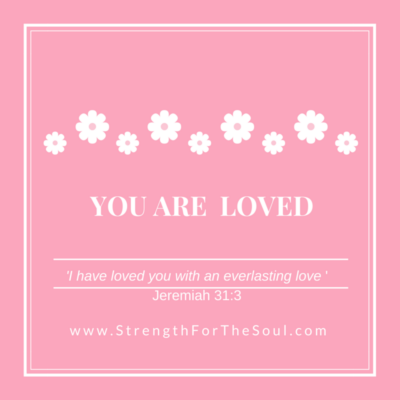 I found myself worrying about finances yesterday.
I hate it when I do that. I certainly know better. God has always provided for everything we've ever needed – and so very much of what we've wanted too. Even after praying at length about our needs – and our daughter's needs – just prior to our tax appointment, I still found myself feeling stressed.
What if we have to pay taxes this year?
What if our daughter has to pay when she's trying so hard right now to save for a house? And what if we can't help her with it?
God, please help my mind be at peace about all this, yet I feel so agitated.
It was an awful day.
And then our tax day came and went. It wasn't the best day. But my worst fears – as always – weren't realized. It then occurred to me that I did it again: I forgot that I was a loved child and started living like an orphan.
Why do we do that?
Why do we forget, at times, that we are loved with an everlasting love (Jeremiah 31:3), purchased with a price (1 Corinthians 6:20) and sealed with the Holy Spirit who is a deposit of our inheritance until our possession of it (Ephesians 1:13-14 )? Why do we resort to living like an orphan as if we are on our own with no one to help us at all?
When you and I are trusting Christ alone for the forgiveness of our sins and for our eternal life, we have become His adopted children (John 1:12; Romans 8:14-17). And in that relationship as His child, you and I are not only extremely loved and cared for, but we have a new identity that does not include the corruption or chaos of our past, or the problems in our present, or the fears for our future.
So, why do we stress? Are we thinking God has forgotten me? Are we assuming He isn't really a Good Father to His child?
Oswald Chambers, put it this way:
Fill your mind with the thought that God is there. And once your mind is truly filled with that thought, when you experience difficulties, it will be as easy as breathing for you to remember, "My heavenly Father knows all about this." This will be no effort at all, but will be a natural thing for you when difficulties and uncertainties arise. Before you formed this concept of divine control so powerfully in your mind, you used to go from person to person seeking help, but now you go to God about it. Jesus is laying down the rules of conduct for those people who have His spirit, and it works on the following principle: God is my Father, He loves me, and I will never think of anything that He will forget, so why should I worry?
An orphaned child says: "I am all alone. I have no one to help me." A child of God lives confidently the words: "My Father is with me. And He will help me."
The more you and I reaffirm who we are in Christ, the more our behavior will reflect our true identity – a loved, well-cared for child of the Most High God.
Lord, forgive me for living like I'm an orphan and forgetting, even for a moment now and then, that You have loved me with an everlasting love and adopted me as Your own. Help me to live like a loved child of God, not a helpless orphan.
In what way have you lived like an orphan this week? (Or in what ways have you been reminded that you are much loved by the King? )I'd love to hear your response in the comment section below.