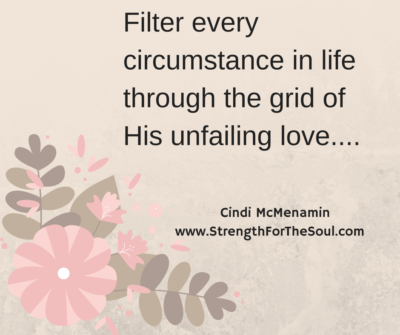 Do you ever have one of those weeks – or months – when it seems like God isn't around? When it seems He's gone on vacation while you've been hitting the rough times?
When my husband voluntarily stepped out of his pastoral job for an unpaid "one year sabbatical" (that was his term for it), I began to wonder if after eight months God had gone on a permanent coffee break.
God, he's restless to get back into ministry.  Where are You?
God, we can't keep paying for our own health insurance. Aren't You taking note of this?
 Lord, we need You to intervene…any time now!
Yet God wanted to take us to the edge of desperation – where we truly needed Him – and there He reminded us that He's been right there with us, all along.
Through the years I've learned that God has a way of drawing us out to the desert of need in order to teach us some things about Himself.
In the early years of my marriage, I learned that my husband couldn't possibly meet all my emotional expectations and I had to look to God to be my "spiritual husband" (Isaiah 54:5).
In the early years of my husband's first ministry, we didn't have much money, so I learned to depend on God as my Provider and take Him at His Word when He says He will supply all my needs according to His riches in Christ Jesus (Phil. 4:19).
While I was parenting a teenager, I had to look to God to be my Wisdom, my Source of Strength, and my Counselor (James 1:5).
And a few years ago – as I waited for God to move during a time in which my husband and I  seemed to be standing still  financially, emotionally, and in ministry – I had to look to God to be my Future, my Hope, and my Direction (Jeremiah 29:11). 
God knows that if I have everything I want, right when I want it, then I no longer need Him. And I'm not truly desperate for Him.
In the Old Testament book of Hosea, God told His prophet Isaiah what He was going to do to get His people back to His heart. His people had turned their backs on Him, like a wife who had betrayed and deserted her husband. God used an analogy of a lovesick husband leading his wife back to his heart when He told the prophet Hosea His strategy for getting His people back:
"Therefore I am now going to allure her;

I will lead her into the desert and speak tenderly to her.

There I will give her back her vineyards, and will make the Valley of (Trouble) a door of hope.

There she will sing as in the days of her youth….

"In that day," declares the Lord, "you will call me 'my husband'…." (Hosea 2:14-15)
I wonder, sometimes,  if God doesn't take that same strategy with you and me today. Could He be allowing us to go through a desert (in our marriage, our finances, our job, or our personal life) so He can "speak tenderly" to us and show us a new side of Himself? Could He be taking you through a desert in your marriage, so you will see Him as your "spiritual husband"? Could He be allowing you a trek through the wasteland of financial hardships so you will see Him as your Great Provider? Is He allowing you a journey through parched areas of loss so you will see Him as your Greatest Possession?
When we filter every circumstance of our lives through the grid of His unfailing love, we will see every test and trial, every desert and disappointment, as a loving gesture on His part to draw us closer to Himself.
In what way do you most need God right now? I'd love to hear it in the comment section below. 
For more on this God who pursues your heart, see my books When God Pursues a Woman's Heart and God's Whispers to a Woman's Heart.