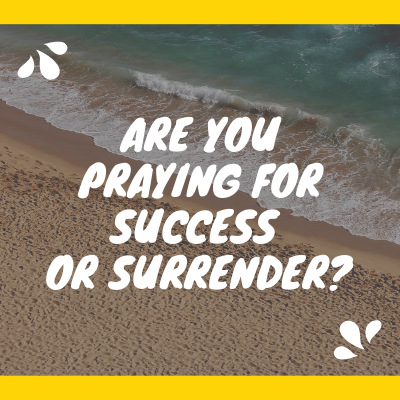 "Doesn't God want me to succeed?"
I can't tell you how many times I've heard that question – or lament – after someone didn't get a promotion, missed an opportunity they thought was golden, or suffered financial setback from a bad investment.
Sure, God wants us to succeed. But God's definition of success is often different than ours. He wants us to succeed in our obedience and faithfulness to Him and His Word (Joshua 1:8), and in our development of Christ-like character.
Do you want to succeed in the areas that are important to God? Do you want to impress Him rather than others? Then take a look at these 5 Things God Wants MoreThan Our Success: 
God Wants Our Humility.
God knows better than we do how personal success can cause us to praise ourselves, rather than Him. Scripture instructs: "Humble yourselves in the presence of the Lord, and He will exalt you" (James 4:10, NASB). Rather than handing us success, God wants us to live humbly, according to His Word, and wait for Hispromotion (Psalm 75:6-7, KJV).
Instead of praying for success in your job, finances, or personal life, pray for a humble heart so God can trust you with whatever He blesses you with. 
2. God Wants Our Spiritual Fruitfulness. 
Throughout the New Testament, we are exhorted to grow spiritually and in the character of Christ (Colossians 1:10). In Galatians 5:22-23, we are given a list of the fruits of the Spirit – character traits that emulate Christ and make up God's measure of success for our spiritual life: love, joy, peace, patience, kindness, goodness, faithfulness, gentleness, and self-control. These traits are evidence of one's spiritual growth.
If winning the lottery, succeeding at our business, gaining recognition, or even achieving a desired personal level of success keeps us from exhibiting these characteristics, God may do what it takes to prevent that type of "success" in our lives. His goal is that we be mature and display spiritual qualities. When we display the fruit of the Spirit in our lives, we are living "successfully" in God's eyes.
3.  God Wants Our Obedience & Surrender. 
The Prophet Samuel told King Saul "To obey is better than sacrifice, and to heed is better than the fat of rams" (1 Samuel 15:22). God took the kingdom of Israel away from King Saul and gave it to David, whom He described as "a man after my own heart; he will do everything I want him to do' (Acts 13:22). God equated obedience and surrender with success and the ability to be a great leader.
Jesus said "Whoever has my commands and keeps them is the one who loves me. The one who loves me will be loved by my Father, and I too will love them and show myself to them" (John 14:21). According to Jesus, obedience to God is evidence of our love for Him and a formula for spiritual success. 
4. God Wants Our Complete Dependence on Him. 
Personal success can make us believe we are doing pretty well on our own. We can even tend to think we don't need God. Wise King Solomon knew this tendency of ours if we were given everything we wanted. In Proverbs 30:7-9, he asked for two things before he died. In addition to his request that God keep deception far from him, he also prayed "Give me just enough to satisfy my needs. For if I grow rich, I may deny you and say, "Who is the Lord?"
Are you asking God for a deeper dependence on Him? It seems contrary to a prayer for success. But wants us to depend on Him for everything we have, success included. Instead of praying for a certain measure of success, ask God to make you so dependent on Him you become a success in His eyes.
5. God Wants Our Faith. 
Hebrews 11:6 tells us "without faith it is impossible to please God." If you are highly successful do you still need faith? Of course you do. But if you have plenty of money, people standing by to take your orders, and the belief that you can take care of yourself, it's easy to get comfortable without exercising faith on a daily basis.
God wants you to seek Him first and discover that He supplies everything else you can possibly need (Matthew 6:33). When we are successful in our eyes, we sometimes think we have all we need.Don't pray for the ability  to do all things, but for a deepening faith in the One who can do all things. 
In which of these areas do you want to succeed? I'd love to hear it in the comment section below.