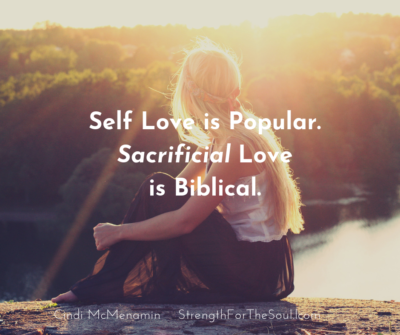 I've been hearing a lot about "self love" lately.
Everywhere I turn, I see articles like "10 Powerful Ways to Practice Self Love," "Self Love Must Come First," and "7 Ways to Put Self Love into Action."
I even saw a journal, claiming on the cover "Self Love is My New #RelationshipStatus."
Really?
Self love is nothing new — we've been loving ourselves to excess since the fall of mankind.
Before you and I buy into the popular philosophy of loving ourselves more, it would be wise to look at what Jesus taught on the subject. Jesus said if we wanted to be His followers, we needed to deny self, pick up our crosses daily, and follow Him (Luke 9:23).
Yes, we are to take care of ourselves because our bodies are the dwelling place of the Holy Spirit. Yes, we are to not harm ourselves because we belong to Him. But we are not to prefer ourselves over others. I know, in my life, I don't need reminders to love myself, I need the Holy Spirit's gentle conviction to love others more than myself. Jesus taught we are to love Him first, others second, and ourselves last (Matthew 22:37-40). While self love is popular, sacrificial love is biblical. Christ-like love, which puts others first, is what will ultimately set us free and bring us joy.
In Galatians 2:20, the Apostle Paul wrote, "I have been crucified with Christ and I no longer live, but Christ lives in me. The life I now live in the body, I live by faith in the Son of God, who loved me and gave himself for me." That means identifying with His death and resurrection and considering our lives fully His.
I realize, after more than 30 years in ministry, that in this broken world many women have put their abusers first, and allowed themselves to be trampled upon. That is not God's will. Many women have been beaten down as a child and told they would never amount to much. That breaks God's heart. Many women have lost self respect because of a history of sexual sin, addiction, or the sins of others that have left deep emotional (and perhaps physical) scars on them. But, the answer is not loving ourselves. The answer is embracing the faithful God who proved that He loves us more than anyone else ever could, so that we can love Him more than we've loved anyone else. When we do that, we experience what it means to be truly wanted and valuable, because of what Christ did for us.
My friends, our self worth is not EVER in ourselves, alone. We are worthy and valuable because of what Jesus has done for us. First Corinthians 6:10-20 tells us He bought us with a price, and that makes us extremely valuable in His eyes. Therefore, He deserves the first of our love, not our leftover love. When you and I really understand the significance of what Jesus did for us on the cross, we will treat our bodies as His holy dwelling place and follow His command to love Him with all that we are, and love others as He loves them — sacrificially and preferentially.
I believe you and I, in our fleshly nature, don't need encouragement from the world or even the church to love ourselves more than we already do. I believe Jesus knew our self love was at dangerous capacity. Therefore, He commanded us to "love your neighbor as yourself" (Mark 12:31). Jesus knew we already loved ourselves enough and needed to put self on the shelf and learn to love others at least as much as we loved ourselves.
Be careful about what you hear, read, apply, and endorse. Align it with what the Word of God teaches and "you will know the truth, and the truth will set you free" (John 8:32).
Instead of self love, how about embracing God's love? How about "Jesus-love is my new relationship status"? That's one that will never disappoint or hollow out.
(If you are struggling with the concept of self love because of pain in your past, see my books When God Sees Your Tears and When a Woman Overcomes Life's Hurts. They will help you understand Who loves you and how you can learn to love and trust others again. )