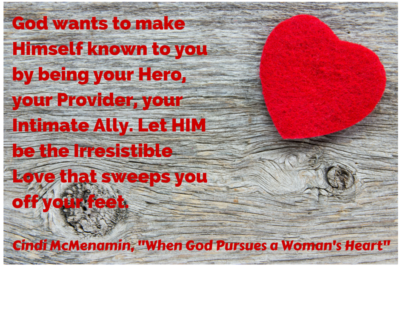 Did you survive Valentine's Day focusing on the true love of your life? Last week I gave you four ways Jesus is your perfect husband. Since the Bible's use of seven represents the number of completion, I want to complete that list this week by giving you three more ways Jesus is the perfect husband:
His love for you will never change or diminish.
In Jeremiah 31:3, we are told of God's heart for us: "I have loved you with an everlasting love; therefore I have continued my faithfulness to you" (ESV). And that was in the context of a strained relationship in which the wife (Israel) was not acting faithfully toward her husband. Jesus puts no parameters or conditions around His unfailing love for you. In Hebrews 13:5, He says, "I will never leave you nor forsake you." And in Romans 8:38-39, we are told that "neither death nor life, nor angels nor rulers, nor things present nor things to come, nor powers,nor height nor depth, nor anything else in all creation, will be able to separate us from the love of God in Christ Jesus our Lord." That means no circumstance, condition, or person will ever draw your heavenly husband's heart and love away from you. That is perfect love that will never leave.
2. He sees the best in you.
A discouraged wife recently told me "No matter what I do, my husband sees me through the lens of my past mistakes and failures. I will never be able to make him see me the way he once did." Spouses can tend to see the worst in each other. And that baggage can collect through the years. Yet, Scripture tells us that in Christ we are a "new creation" (2 Corinthians 5:17) and this God who knows everything about us still chooses to not remember our sins (Isaiah 43:25). In Psalm 139:17 David sang this about the God who sees the best in us: "How precious are your thoughts about me, O God.They cannot be numbered!" (NLT).
Furthermore, Scripture gives us this tender description of our Heavenly Husband: "The Lord is compassionate and merciful, slow to get angry and filled with unfailing love. He will not constantly accuse us, nor remain angry forever. He does not punish us for all our sins; he does not deal harshly with us, as we deserve. For his unfailing love toward those who fear him is as great as the height of the heavens above the earth.mHe has removed our sins as far from us as the east is from the west" (Psalm 103:8-12, NLT). That is a husband who holds no baggage against us, remembers no offense, and continues to see us as spotless and new in His eyes. 
3. He has your best at heart.
It's natural for us, as humans, to be selfish. And therefore, a sense of competition can occur between a husband and wife, or just selfishness that leaves us wanting our preferences over our spouse's and vice versa. But Jesus is the epitome of self-sacrifice in that He gave up His own life for you. He combines that sacrificial love for you with an intimate knowledge of what is eternally best for you. And that means He always has your eternal best at heart.
In Matthew 7:11 we are told that if we, who are human, know how to give good gifts to our children, how much more will our Heavenly Father give what is good to those who love Him? Your Heavenly Father and Heavenly Husband knows what is very best for you. Psalm 84:11 tells us "Nogood thing does he withhold from those who walk uprightly." So, if you're asking your Perfect Husband for something good that you don't yet have, it either isn't truly good for you or it isn't time. Trust Him with what He withholds, with how long He waits, and with how He chooses to bless. You have a Husband who provides for you in the very best way possible. 
Thank You, Lord Jesus, for being the Perfect Husband who pursues my heart, patiently loves me, and promises to never leave. May I be, to You, the perfect lover in return through my surrender and obedience, my worship and adoration of You, and my love and dependence on You as the Only One who satisfies.
For more on this Heavenly Husband of yours who will never leave, see my books, Letting God Meet Your Emotional Needs and When God Pursues a Woman's Heart.