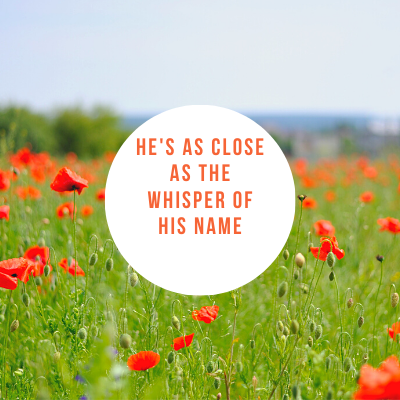 If I pay too much attention to what's happening in this world, it could make me crazy. Can you relate?
While gas prices here in California reach toward $7 a gallon (!), I must remember this world is not my home. And my provision comes from the Lord.
When I read stories in the news that make me shudder and wonder what's happening to people, I must remember that Scripture says "there is no one who does good" (Psalm 14:1)—we all need a Savior to redeem us.
When the values of leaders in this country pale to what they were a decade or two ago and integrity is so hard to find, I must remember that Jesus is the One who is on the throne. He always was and always will be, and my allegiance is to Him first. He is the One in whom our hope lies. He is the One we look toward for justice, righteousness, truth, and hope. He—not anyone in Washington D.C.—is our eternal hope.
In Psalm 121:1-2, the Psalmist prayed:
"I lift up my eyes to the mountains [not Capitol Hill]—

where does my help come from?

My help comes from the 

Lord

,

the Maker of heaven and earth."
When I become angered by this country's pursuit of laws that break God's heart, I must remember: This is not a Christian nation—it never was. People (not countries) become believers through their individual faith in Christ. Yes, this nation was founded, and used to be governed, by people who had biblical values, but they were still depraved at heart, apart from a Savior. We all are. It is only by Christ's grace and our faith that we can be set apart and become like Him in a lifestyle of love, faith, and grace. Today, it's just a little easier to discern that we are living in a world in which "wide is the gate and broad is the road that leads to destruction."
While laws are made that make us cringe, Jesus is and always will be on the throne. Jesus said, "wide is the gate and broad is the road that leads to destruction, and many enter through it. But small is the gate and narrow the road that leads to life, and only a few find it (Matthew 7:13-14). That tells me, Jesus-followers have always and will always be a minority, no matter where we live on this earth. But that also means our light can shine, like a city on a hill, letting others know where truth and hope can be found. Instead of feeling agitated at how increasingly different your values are from the world's these days, rejoice that you have the truth and hope of Christ in you…and that you can offer that truth and hope to others.
In John 18:36, Jesus reminded His followers "My kingdom is not of this world." Of course we would like this world to be as lovely as heaven while we're still here, but it's not going to happen. Only in the eternal presence of Jesus, where all sin is eradicated and all will be like Him, will we experience life the way it was intended to be. I look forward to that day. Until then, let's praise Him every day for the glimpses of beauty He's given us, the joy we can still find in His presence (Psalm 16:11), the salvation we have in Him, and opportunities to share with others who He is and the hope of what is to come for all who put their faith in Him.
After all, "No eye has seen, no ear has heard, and no mind has imagined what God has prepared for those who love him" (1 Corinthians 2:9). Our home awaits us and it's out of this world.
Your light and hope will impact others far more than any complaints you express. How will you live today like a joy-filled citizen of heaven and an ambassador of Christ Jesus? I'd love to hear your thoughts in the comment section below.
(To keep you focused on your First Love and your eternal home, see my books,  Letting God Meet Your Emotional Needs,  When God Pursues a Woman's Heart, and Women on the Edge, all on sale now in my website store.)