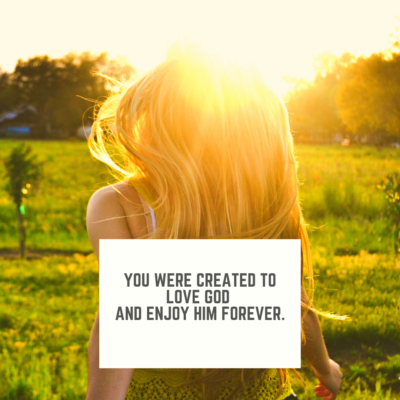 I recently shared with you three ways we can put Jesus on the throne, instead of "worshiping a golden calf." This week, I want to give you four more ways you can make sure God is your sole object of worship. Which of these will you make your challenge this week?
Absorb God's Word and let it become what you feast on.
Romans 12:2 commands us, "Do not be conformed to this world, but be transformed by the renewal of your mind, that by testing you may discern what is the will of God, what is good and acceptable and perfect."
We make idols of our desires when we become conformed to this world. And we can make God into our own image when we are more familiar with the world and its ways than the Word of God and His ways. The best way to renew our minds and be transformed to the will of God rather than this world is to be fully saturated in the Word of God. A person transformed by the Word of God is much less likely to erect a golden calf and worship a false god in their life.
2. Abstain from whatever consumes you, causes you to sin, or competes with God in your life.
Jesus said if your right eye causes you to sin, tear it out and throw it away, and if your right hand causes you to sin, cut it off and throw it away (Matthew 5:29-31). Sounds severe, right? Yet He was emphasizing that our eternity is far more important than our temporary discomfort or full-on struggle in order to avoid temptation and habitual sin. Addictions can easily become a golden calf. That's why Step No. 1 in the 12 Step-Recovery Program for AA is that you acknowledge you are not God of your life and surrender to your Higher Power – which is the Lord Jesus Christ. He is the Only One who can give us strength and power to overcome addictive behavior and He is the only One who belongs in the No. 1 place in our life – not alcohol, drugs (including prescription meds), pornography, sex, gambling, shopping, eating, dieting, , caffeine, or whatever might hold power over you.
Allow a friend into your life by sharing with them how you might struggle in this area. Choose a friend who will pray for you and hold you accountable. Ecclesiastes 4:9-10 tells us: "Two are better than one because they have a good reward for their toil. For if they fall, one will lift up his fellow. But woe to him who is alone when he falls and has not another to lift him up!" Bring someone alongside you to help you eliminate the golden calf of addiction in your life.
3. Adopt the practice of waiting upon God.
It was the Israelites' lack of patience and unwillingness to wait on God that caused them to turn away from God and make up one of their own. They got tired of waiting for Moses to return from the mountain, tired of waiting to find out what they should do next, tired of waiting while it seemed to them that God was silent. Do you get impatient waiting on God, too?
In Psalm 62, David sang: "My soul waits in silence for God alone; From Him comes my salvation. He alone is my rock and my salvation, My stronghold; I will not be greatly shaken" (verses 1-2). And in verses 5-6, David again proclaimed: "My soul, wait in silence for God alone, for my hope is from Him. He alone is my rock and my salvation, my refuge; I will not be shaken" (NASB).
Those words were penned by a man who waited on God, worshipped God, and earned the description by God as "a man after my own heart; he will do everything I want him to do'" (Acts 13:22 NIV). You can eliminate the golden calf in your life by simply waiting for God and His purposes in your life, not trying to go after them on your own.
4. Address the people-pleasing areas of your life.
Moses' brother Aaron obviously feared the Israelites' response if he didn't do what they asked of him and build them a god to worship. But rather than holding to his convictions and principles, and standing for truth and worship of the one true God, this Priest appointed by God caved to the expectations of the people. Do you fear people more than you fear God? Do you desire to please them more than you desire to be obedient to, and please God? When people are big in your eyes and God is small, that equates to erecting the golden calf of people (and their opinions and approval) over the God who created people. External pressures by others to take up life on your own instead of depending on God may lead you to adopt your own golden calf that takes the place, respect, service, and time from you that only God deserves.
As you live by Jesus' command in Matthew 22:37 to love the Lord your God with all your heart, mind and strength, you will be ensuring that no one takes His rightful place in your life. And, as you surrender your heart and will to Him daily and make sure the Holy Spirit is on the throne of your heart, you will be ensuring that yourself (or anything else) doesn't take the rightful place of God and become an object of worship in your life.
For more on increasing your desire for God so He becomes your all-in-all, see Cindi's popular books, Letting God Meet Your Emotional Needs, and Women on the Edge.