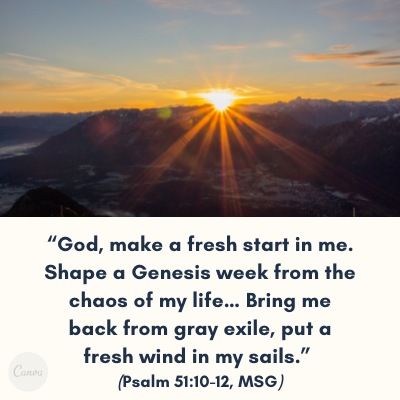 Do you ever just want to start over?
It's a good thing that the God of Heaven is a God of fresh starts and new beginnings. He must have known we'd need fresh starts so He provided us with ample opportunities for new beginnings.
With each new day we have a reminder that we can try again, get another chance, make a clean start. And with each new month we can recommit ourselves to God anew with a prayer for a fresh start.
If you've made bad choices, thought wrong thoughts, done stupid things, or said careless words, you can pray for a fresh start this month. If you've missed some divine appointments, messed up some relationships, or just want to live more fully for Him, you can renew your heart with every new month. Here is a prayer for a fresh start in February:
Lord God, Creator of all things. Thank You, that You have the ability – and the desire – to wipe my slate clean. Thank You that forgiveness is there for the asking and You are the God of restoration, and new beginnings. Your Word says, "Anyone who belongs to Christ is a new person. The past is forgotten, and everything is new" (2 Corinthians 5:17 CEV). That doesn't just mean I become "new" when I initially come to Christ and surrender my life to Him. It means I can have a new beginning every day – every time that I see the need to start over. Every time I want to make it right with You again.
I praise You for the privilege to "come boldly to the throne of grace, that [I] may obtain mercy and find grace to help in time of need" (Hebrews 4:16). I thank You for the promise in Scripture that if I ask anything according to Your will, You hear me. And if I know You hear me in whatever I ask, I know I have what I have requested of You (1 John 5:14-15). Lord, I ask, in Your name, that You forgive me for the times I've crowded You off the throne of my life and sought to be the ruler of my decisions and will. Forgive me for my desire to control, for my lack of faith that You are sovereign over every event under heaven, and for my sin that has grieved Your heart.
Thank You for seeing that I am human, I still sin. Even though I love You and set out to do what's right, I still mess things up at times. That is why I need a Savior. That is why I need You, my Savior. I praise You that a new start awaits me every time I ask You for it. As David prayed in Psalm 51 (after a disastrous series of events): "God, make a fresh start in me. Shape a Genesis week from the chaos of my life… Bring me back from gray exile, put a fresh wind in my sails" (verses 10-12, The Message).
Thank You, Lord, that just as You gave King David a fresh start after messing up big time (committing adultery and then murdering one of His "mighty men" to cover up his sin), You can show mercy to me as well, no matter where I've been and what I've done.
"Search me, God, and know my heart; Put me to the test and know my anxious thoughts; And see if there is any hurtful way in me, And lead me in the everlasting way" (Psalm 139:23-24 NASB). Lord, as this is a new month, make everything about me new. Everything. My mind– to think pure thoughts. My body – to live purely from day to day. My mouth – to speak words that heal, not wound. My heart – to seek after a path that is straight and right.
Thank You, that in Your mercy, and in Your righteousness, You have "removed our rebellious acts as far away from us as the east is from the west" (Psalm 103:12 NLT). Hurl my sins further than the California Coast is to the Jersey shore. From years past into a million years hence. I praise You that "As far as sunrise is from sunset, [You have] separated us from our sins" (MSG). With regrets behind me, put me on a new road, toward a new direction, into a brand new month, with a fresh new start.
Will you pray this prayer with me and start anew in February? Let me know in the comment section below so I can be praying for you, too.
For more prayers like this, see my devotional book, God's Whispers to a Woman's Heart.