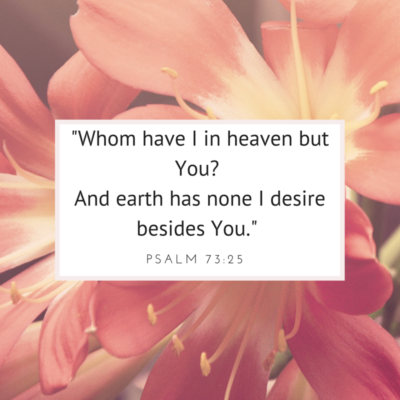 Do you ever wonder why God isn't giving you "success"?
This morning I read this from Proverbs 2:7:
"He holds success in store for the upright,
    he is a shield to those whose walk is blameless…."
God is the one who HOLDS success and therefore decides to whom and when to give it. Scripture assures us He gives it to the upright but it also says He is our shield and protection. Perhaps sometimes He withholds that success to protect us and keep us blameless.
Last week I shared with you five things God wants more than our success. That was by no means the end of the list. This week I'm offering you "Five More Things God Wants More Than Our Success" so you can know how to pray:
God Wants Us to Be Like Christ.
Success isn't the best teacher when it comes to becoming more like Christ. In fact, we can relate more to the Man of Sorrows through our disappointments, loss, pain, and even failure, as it makes us more dependent on God.
When you experience a disappointment, loss or failure, instead of asking God why He didn't want you to succeed, ask Him "How can I become more like Christ through this?" Then you may discover His route to success. 
2. God Wants Us to Walk in Newness of Life. 
Sometimes we strive for success to make up for what we feel we are lacking in our lives (love, a sense of purpose, affirmation, a sense of identity or worth). Yet, God wants us to realize those things are found only in a healthy relationship with Him in which we know who we are in His eyes. 
Are you desiring personal success as a fix to a wound or to compensate for something you feel you're missing? Seek healing and wholeness in Him so you can walk in newness of life and leave the past and your old wounds behind you (2 Corinthians 5:17). That is successful living in God's eyes.
3. God Wants Us to Be Servants. 
When Jesus' followers were arguing about which of them was the greatest, Jesus gave them a dose of reality by stripping down to His underwear and taking on the role of the household servant and washing their dirty, grimy feet. Then He told them "Now that I, your Lord and Teacher, have washed your feet, you also should wash one another's feet. I have set you an example that you should do as I have done for you. Very truly I tell you, no servant is greater than his master" (John 13:14-16).
He's the same Jesus today. Does He desire your success? Sure, if you consider success like He does – being an obedient servant of God who is willing to get dirty to help someone else. Focus on leadership as an opportunity to be a servant and you may find that God wants that kind of success for your life, too. 
4. God Wants Us to Fulfill Our Calling. 
Sometimes we get hung up on God's specific will for us. And we generalize it with the statement "God wants me to be successful." A more biblically accurate phrase would be "God wants me to be thankful and content in everything."
In 1 Thessalonians 5:18 we are told "give thanks in all circumstances; for this is God's will for you in Christ Jesus." Fulfill your calling by being open, teachable, and grateful for all things – painful or not – that God allows into your life. You can ask Him what He wants for you, specifically, and as you do, pray that your desires will reflect His. As His desires for your life become your desires, you will find that He delights in granting them (Psalm 37:4). 
5. God Wants Our Intimacy with Him. 
More important to God than our investment portfolio, our job resume, or our list of accomplishments in this life is the deepening of our union with Him. He desires intimacy with you and me and will, at times, allow whatever it takes, for us to find that depth of relationship with Him.
God's desire for us to truly know Him is evident in Jeremiah 29:13: "You will seek me and find me when you seek me with all your heart" and Jeremiah 31:3: "I have loved you with an everlasting love; I have drawn you with unfailing kindness." As you pursue intimacy with God and find that earth has nothing you desire besides Him, you will be able to say as the Psalmist did "My flesh and my heart may fail, but God is the strength of my heart and my portion forever" (Psalm 73:26). Seek intimacy with God and you will ultimately find He is your prize and your success.
Which of these will you be praying for this week? I'd love to know in the comment section below so I can be praying for you, too.