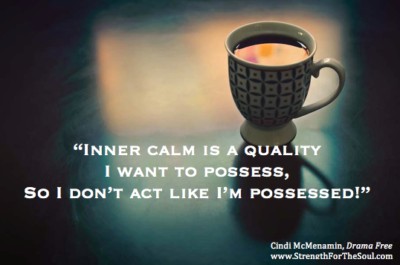 When it comes to the women we model our lives after, who are your heroines?
Actresses? Models? Outspoken women fighting for a woman's position in this male-dominated world?
The Bible contains many examples of women we can look up to – women of faith, obedience, and a heart for God. But, there are also many stories throughout the Old and New Testaments that show us what not to do, how not to live and who not to be like.
Here are five women of the Bible who – for a season or for their entire lives – are examples of who not to imitate:  
Eve – the woman who wasn't satisfied.
Eve was a woman who literally had it all. Not only was she married to the perfect man prior to The Fall, but she had a beautiful garden home (that never needed weeding), no noisy (or nosey) neighbors, no job pressures on her or her husband, no debts, no bills to pay, no in-laws, and no disobedient or demanding children. She didn't even have laundry! (Think about that one. They were naked before they sinned, remember?)
Not only was Eve's life perfect, but she was perfect and complete in every way. No health problems, weight problems, vision or hearing problems, and no addictions, or achy body parts. But for some reason, all that perfection wasn't enough for her. Eve entertained Satan's suggestion that there was something morethat she needed, but didn't yet have (Genesis 2:18-3:23). Don't be a woman who believes you must have more. Trust the limitations God has put in your life for your wellbeing. Otherwise you may find, like Eve, that in wanting just a little more, you end up losing it all.
2. Lot's wife – the woman who looked back.
God commanded Lot and his whole family to leave the detestable city of Sodom, and not look back or they would be destroyed along with the city and everyone in it. But Lot's wife had regrets. Instead of looking forward to the new life God was giving her and her family, she longed for the place God was delivering her from. Her heart was still in Sin City. She looked back and was turned to a pillar of salt (Genesis 19:1-26).
Don't be a woman who looks back at what you used to have, or who longs to return to the place God once delivered you from. Instead, forget the past and move forward into the future God has for you.
3. Job's wife – the woman who offered horrible advice.
Granted, her husband was going through a difficult and painful time. And she no doubt felt the impact of him losing his flocks, livelihood, investments, servants and children! Yet instead of being a support and comfort to her husband, or turning to God in her pain and confusion, she let bitterness take over and blurted out to Job the worst advice ever uttered in history: "Curse God and die!" (Job 2:9). Interesting…that was exactly what Satan wanted Job to do as a result of the distress Satan was bringing upon him (Job 1:11).
Ladies, we can be the gentle, affirming voice of the Holy Spirit to our husbands or we can be the angry, accusing voice of Satan. I know which one I want to be, don't you?
4. Moses' wife – the woman who did things her way.
When God confronted Moses for his disobedience (or perhaps his wife's) in failing to circumcise his son, (as a sign of obedience to God's Covenant), Moses' life was in danger. Zipporah "took a sharp stone and cut off the foreskin of her son and cast it at Moses' feet, and said, 'Surely, you are a husband of blood to me!'" (Exodus 4:24-26). Although Zipporah's actions saved her husband's life, she did it with evident disgust.
Some Bible scholars believe that Zipporah, because she was a Midianite, might have been the one who didn't allow the circumcision of their sons because she didn't believe in it. Or perhaps, out of protective mother mode, she refused to allow her husband to perform the procedure. There is always drama when we decide on our way over God's. Don't be a drama queen who insists on her own way.
5. Rachel – the woman who wanted it all.
Rachel, the preferred wife of Jacob, had love, wealth, and a promising future in front of her. But Rachel didn't have any children. And she must have thought that having children would be her ticket to having it all!
Rachel's jealousy of her sister's ability to have several children sent Rachel into a tailspin with drama that negatively affected her relationship with her husband, her sister, and God. Ironically, Rachel – who told her husband "Give me children or I die" – ended up dying just after the birth of her second son. The one thing she believed would bring her fulfillment (having children) ultimately cost her life (Gen.29:14-30:24 and 35:16-20). Don't be a woman so desperate for what you believe will make you fulfilled that you miss the blessings that are right in front of you.
That list is certainly not extensive. In fact, I've saved the worst for last. Watch for "Five More Women Not to be Like" in next week's blog. For now, which of these women gives you an up close and personal look at your dark side? I'd love for you to share it with me in the comment section below. Then I'll tell you which one is most like me. 🙁