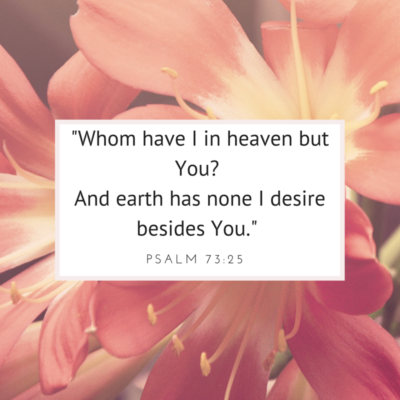 Do you ever wonder why we do the things we do?
And yet, we're not so different from the Israelites who did really dumb things at times.
Of all the biblical examples of what not to do, the one that seems the most brainless might be the one we are most likely to imitate. It's the story in Exodus 32 of the Israelites worshipping a golden calf after witnessing overwhelming evidence of the one true God.
While you and I are not about to melt down our jewelry and make a statue and start worshipping it, we sometimes give up what is important to us to prioritize the temporary, worthless things of this world. We tend to spend money on things like expensive cars, high-tech devices, beautiful homes, or name-brand handbags, and then invest our time and energy and more money to keep them safe, secure, and spotless. Anything we love, think about, or serve (with our energy and time) can become a "golden calf" in our lives. Anything that we raise up, revere, desire, or consider more valuable than our relationship with God, can become an unintentional object of worship.
You and I can unknowingly worship success, productivity, fame, the approval of others, or anything we strive for more than our spiritual growth and our closeness with God.
Sometimes we make our children or grandchildren our golden calf when they become our priority and we stress about their health, their wellbeing, and their happiness, more than we desire to please God by trusting Him with their lives.
We can also put a husband or relationship in that position of worship if we heed their desires over God's, seek to please them more than we seek to please God, or simply desire them more than we desire God, Himself. We can even put men in the position of God, expecting them to meet all our emotional needs and expectations, instead of letting God meet our emotional needs.
At times, work takes the throne of our lives because it creeps into the no. 1 spot on our priority list and consumes our time and energy and we put everything else beneath that. Maybe money is your golden calf because how much you have (or don't have) determines your security or contentment level, or because every ounce of energy you have is going toward making more, paying off debt, or saving up for something you desperately want.
How can we identify and eliminate the golden calf in our lives?
Ask God to show you daily who—or what—is most important to you.
Jesus said the greatest commandment was to "love the Lord your God with all your heart and with all your soul and with all your mind" (Matthew 22:37).
One way to do that is to pray, "God, how is my heart before You today? Are you still my top priority and in the place where you should be?" Then seek to love Him first and foremost and all the other things will fall into place (Matthew 6:33), including being less likely to worship anything or anyone else but Him.
2. Assess what you worry—or spend most of your time thinking—about.  
Jesus said, "where your treasure is, there your heart will be also" (Matthew 6:21, Luke 12:34). If your heart and mind are consumed with worry about your children or obsessing over your body image or weight or the number of followers you have on Instagram, that will tell you a lot about who and what you worship.
Colossians 3:1-3 tells us to set our minds on things above. If you are longing for Jesus, longing for Heaven, and living with eternity in mind, you clearly have God in the right place and there isn't a chance you'll be erecting a golden calf and worshipping something temporary or far less worthy than Him.
3. Acknowledge Him moment-by-moment through praise and thanksgiving.
When you daily praise the Almighty, you are reminding yourself that He is God and you are not. First Thessalonians 5:18 tells us to "give thanks in all circumstances; for this is the will of God in Christ Jesus for you." Being thankful for all things keeps us in perspective and reminds us that everything we have has been given to us. That humble and grateful mindset keeps us from worshipping anything other than Him out of a lack of contentment or feeling we should have more than we do.
For more on increasing your desire for God so He becomes your all-in-all, see Cindi's popular books, Letting God Meet Your Emotional Needs, and Women on the Edge.