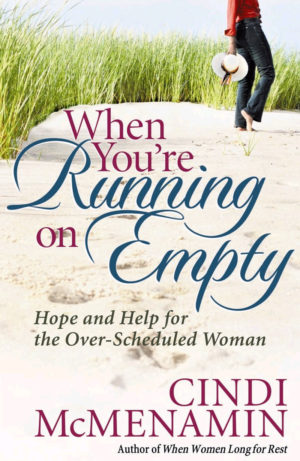 As the busiest time of the year approaches, I'm sure you're finding there's still too much to do and only one of you. In order to keep this the "most wonderful time of the year" rather than the most stressful – or drama-filled –time of the year, here is a follow up to last month's blog on "Three Things That Need to Go So You're Not Juggling It All." 
Here are four things you need to let go of so you can sail smoothly into the "holydays."
Your fear of disappointing others.
Is your plate full because you fear disappointing others more than you fear disappointing God? We often take on more than we can handle because we want to impress, we don't want to disappoint, or we love the kudos we receive by being the one who brings the "extra."
Determine the priority people in your life – the ones who will cry the most at your funeral one day. That should help you remember whom you least want to disappoint and therefore what to let go of and what to keep. It feels good to get extra credit or extra appreciation for doing some extra work on an extra-curricular activity or project at work. But if the extra project is causing extra stress, it needs to be extrapolated from your life. 🙂
2. The person or element that is draining you.
What is draining your tank? Is it a negative atmosphere in your office? Your volunteer work at your child's school? Caring for an aging parent or spouse? Service takes a lot out of us, but so does immersing ourselves in something that – or with someone who – drains us, rather than fills us up.
If a friend or an extended family member is causing the strain, establish some healthy boundaries around your relationship. If your rebellious child or step-child – or an ex-husband – is draining your cup, draw the line on what will not be allowed into your home or into your heart and mind to start that negative thought process. You are no good to yourself and others if you are too drained or stressed to deal with life.
3. Your unhealthy habits.
Stress kills. So does lack of regular exercise, poor nutrition, and poor eating habits (like not eating at all due to time restraints or eating too much, due to stress). A recent surgeon general's report stated that "failure to exercise at least 2-3 times a week is the equivalent of smoking a pack of cigarettes a day." That's right. Failure to exercise your heart is just as hazardous as putting extended stress on your heart through smoking. Ouch!
Give up whatever is dragging you down physically and contributing to your stress –addictive substances, poor eating habits, being too sedentary. Seek help through a recovery program, an exercise program, or through a healthy lifestyle program offered through your insurance benefits. (You may be surprised to learn what is covered by your insurance in order to keep you healthy and prevent stress-related disorders). Your body is the temple of God (1 Corinthians 6:19). Take care of it and it will take care of you.
4. Your unrealistic expectations.
Busyness is not today's badge of success; it's more like your ticket to the hospital as the faster you run and the harder you work, the more stress and toll it takes on your body, as well as your family and those who love you most.
If you find yourself saying "there's not enough hours in the day" then you're being unrealistic about what you can handle and imbalanced in what you are attempting. God gave us the exact amount of hours in a day that we would need to work, serve, rest, and live a quality life. If you're burning the candle at both ends, it's time to re-evaluate your motives and priorities and determine why you are not allowing yourself to rest. (See my books, When Women Long for Restand When You're Running on Emptyfor some practical ways to slow down, surrender the need to succeed, and add peace, trust, and rest into your overwhelmed life.)
Which of the above steps do you most need to focus on this holiday season? I'd love to hear it in the comment section below so I can pray for you and encourage you in your desire to live stress free, worry free, and drama free. 🙂