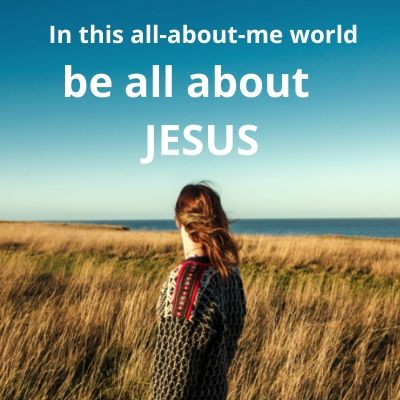 It feels good to be all about us, doesn't it? Especially when everyone else is, too.
But when Jesus told His followers to deny themselves, pick up their crosses, and follow Him (Luke 9:23), He was telling them to live differently by living unselfishly. He wasn't merely implying that we push aside our desires for a while. He was telling us to put to death our insistence on living for ourselves and start living for Him by serving others.
So, how do you and I follow the instructions in Philippians 2:3 and "do nothing out of selfish ambition or vain conceit" in this "me-first," "me, too" and "all about me" world? Here are four ways to be less selfish and more others-focused from the time we rise in the morning, until the time we retire at night.
Learn to overlook an offense.
When someone bad-mouths you, misunderstands you, or does something that makes the hair on the back of your neck stand straight up, Scripture gives us this jewel: "it is to one's glory to overlook an offense" (Proverbs 19:11). When we are all about ourselves, we tend to think we have to defend ourselves, set others straight on their misconceptions about us, and stay in prime image-management mode so no one ever thinks less of us than we think of ourselves. But, if we are children of our Heavenly Father, God's got our backs, His name is our name, and He can protect His own. 
To overlook an offense is to show meekness and a humility that says "I am not as important as I think I am, so I'll let God take care of me, reputation and all."
2. Compliment instead of criticize.
Do you have a critical spirit that notices what's wrong with others and wants to make sure they know it, too? Or worse yet, do you ever cut someone down to make yourself feel a little bit taller?
When you focus on how you can build up others and give them words that encourage and empower them, you are applying Ephesians 4:29, which instructs: "Do not let any unwholesome talk come out of your mouths, but only what is helpful for building others up according to their needs, that it may benefit those who listen." Unwholesome talk isn't just gossip or saying bad words. It can also be talk that boasts of you, instead of praising God and others.
3. Let others go first.
Jesus taught "many who are first will be last, and many who are last will be first" (Matthew 19:30).This is contrary to this culture's priority to "Look out for No. 1" and to seek the first place in line, the best place at the table, and the most note-worthy title.
We are instructed in Romans 12:2 to not conform to the patterns of this world, "but be transformed by the renewing of your mind."  A renewed mind will put others first like Jesus did. Philippians 2:3-4 instructs us to humbly value others above ourselves and to do that by "not looking to your own interests but each of you to the interests of others."
4. Be okay with not being noticed.
Are you okay with not being recognized, applauded, or even appreciated? This non-entitlement attitude is rare today, especially when you are among people who feel entitled, demand respect, and are used to getting awards and applause for simply doing what is expected.
Jesus encouraged obscurity when He taught: "But when you give to the needy, do not let your left hand know what your right hand is doing, so that your giving may be in secret. Then your Father, who sees what is done in secret, will reward you" (Matthew 6:3-4). In other words, don't be impressed with yourself or boast about your generosity, or look for paybacks for your kindness. Don't do anything that smacks of "look at me!" We is always better than me, so seek to be part of a team that serves others so you won't be tempted to want the glory for yourself. 
Watch for four more ways to be selfless on next week's blog. In the meantime, which of these four is most challenging to you? Let me know in the comment section below, and I'll tell you mine, too. 🙂