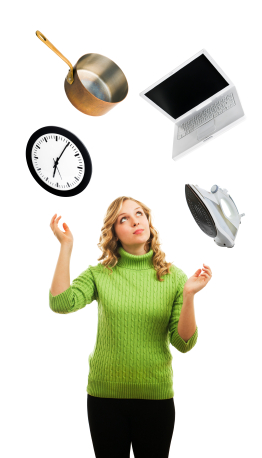 It's that time of year again when there's too much to do and there's only one of you.
 If the responsibilities are mounting and deadlines are closing in, and the plates you're juggling are beginning to fall, you're going to be running on empty soon, so something's gotta give. 
You and I were not designed to do it all, have it all, or run it all. In fact, God's words to "Be still" (Psalm 46:10) might be your life-saver going into this holiday season if you heed them well and consider your health, happiness and relationships as more important than everything you think needs to get done.
To keep your health, relationships, and sanity from spinning out of control in the next couple of months, here are three things that need to go: 
Your guilt feelings for not doing it all. 
You are not God. And therefore, you are not expected to do it all. So, when it comes to letting some things go, let go of your guilt first. There's nothing wrong with telling someone "I'm sorry. I'm overbooked at the moment." It's also not a sin to humble yourself and admit "I bit off more than I could chew. I'm sorry I didn't realize my limitations, but now I do. I am going to need to back out or get some assistance."
Spend a little time in God's Word each day to reinforce to you who you are in His eyes. You are not of value to Him for what you do,but for who you are – His beloved, saved by grace when you surrender your heart and will to His Son, Jesus. As I say in my book, When Women Long for Rest, God would rather have you spend time with Him, than do a bunch of things for Him. Carve out a few minutes each morning with God first and you may find you not only have more time to do other things throughout the day, but your guilt feelings for not "doing" will fade away into the joy you have by simply "being." 
2. Your pride that keeps you from asking for help. 
Shed the Superwoman complex. No one expects you to be the sole provider, rescuer, and savior of the day. You have a God – who is your Provider, Rescuer, and Savior – who wants you to depend on Him, not yourself. So, surrender your pride and start asking Him – and others – for help.
You and I were not designed to run solo. We were created to live and work in community. We all need help, support, encouragement, and a team. In addition to depending on God for help, find your team – those who can help you out in a bind and also remind you when you don't need one more thing to do. Ecclesiastes 4:9-10 says: Two are better than one, because they have a good return for their labor: If either of them falls down, one can help the other up. But pity anyone who falls and has no one to help them up." Instead of living by the motto "When all else fails, ask for help" reject that and live by this motto instead: "To keep from failing miserably, ask for help."
3. Your desire to please everyone.
Sometimes we run ourselves ragged trying to please everyone. But it's a fact that you can't please all the people all the time. Proverbs 18:24 says "A man of too many friends comes to ruin." I believe that means when we try to please everyone, we end up pleasing no one. Choose whom you will disappoint each day by knowing who the priority people are in your life and protecting them by giving them your best. When you please and serve those you love the most, you won't feel drained by trying to be there for everyone.
Sometimes it's as easy as learning to say "no" to someone or something that wasn't already scheduled into your day. As Jesus-followers, we want to be available for the "divine appointments" God might send our way, but we won't be able to say "yes" to God if we are constantly saying "yes" to everyone else. Ask God each day to give you a desire to please Him first, and get in the habit of bringing to Him the unexpected requests you get, to make sure they aren't interfering with what He has for you.
Which of these can you let go of right now so you can sail more smoothly into the holiday season? Please let me and my readers know in the comment section below.