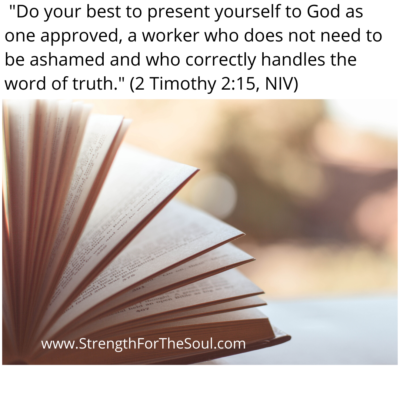 Does the Bible sound foreign to you, at times? Would you like to understand it more and even study it?
I've been instructing new believers in how to understand and apply the Word of God for the past 35 years. One thing I've found constant is this: When a woman understands her Bible she comes alive and begins to live it.
The Bible can seem foreign if you're reading a translation in Old English from the 17thCentury. Or, you might find yourself stumbling across words or terms like denarius, Pharisee, Saducee and sanctification. In order to not just read words, but to understand them and practically  apply them to our lives, we need to know what the Bible says, what it means in the context in which it was written, and what it means to us in our lives today. 
Years ago, I began noticing that new believers started purchasing the Life Application Study Bible to help them understand and apply the Word to their lives. While most  preferred the New Living Translation (NLT) because of its simple, easy-to-grasp wording, I had the New International Version (NIV) because it was not available in my preferred translation (New American Standard Bible -NASB), but had the same study notes and applicational insights. 
As a member of the Bible Gateway Blogger Grid, I recently received  a review copy of the new  NIV Life Application Study Bible from Tyndale Publishers in exchange for an honest review of it on my blog. I thought this would be a great opportunity to let you know about another resource to help you study the Bible. 
In this third edition of the NIV Life Application Study Bible, I was pleased to see a number of charts and study notes added to help not only new believers, but veterans like myself gain insights and daily application from Scripture. 
While Scripture stays the same from age to age, based upon the most reliable translations, the study notes by biblical scholars have been updated to help us understand the never-changing truths of the Bible in the midst of an ever-changing world. 
Not only does this new edition of the NIV Life Application Study Bible contain applicational insights, but just thumbing through it can give you ideas of where to start, where to pick up if it's been a while since you've been in the Word, or where to continue to study a topic, difficult situation, or even a feeling you are experiencing. The notes are aimed at helping you live out what you read so you come away from God's Holy Word changed and transformed. 
This last week, in particular, I was struggling with feeling overwhelmed. So, I opened this Bible to the Psalms and a chart at the very end of the Psalms called "Where to Get Help in the Book of Psalms" directed me to Psalms 25, 69 and 142. The chart lists passages to read when you feel afraid, alone, burned out, cheated, confused, depressed, insecure, overwhelmed, and so on.
My husband, a Bible teacher and longtime pastor who happens to be doing an in-depth study of the Harmony of the Gospels, was impressed with the 7-page "Harmony of the Gospels" section that lists 250 Events in the Life of Christ and where they appear in each of the four gospels. While I use this Bible primarily for my devotional time, my husband can use it as a study resource.
You can check out the new editions of the Life Application Study Bibles here.
Above all, get into God's Word with a translation you can understand and study it. There are so many resources available to you today to help you not only understand, but apply what you've read. This edition of the Word specializes in just that (and it's also available in the New Living Translation).  This is another resource we have available at our fingertips to obediently live out God's command in 2 Timothy 2:15 to "Do your best to present yourself to God as one approved, a worker who does not need to be ashamed and who correctly handles the word of truth."
Besides the Holy Spirit, who gives us truth and insight, which Study Bibles, software, or commentaries have been the most beneficial in helping you understand God's Word? I'm sure my readers would love to know in the comment section below.