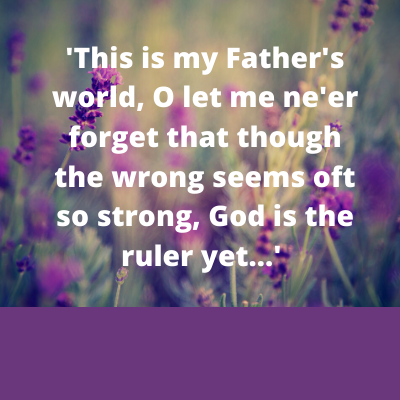 After watching the Presidential election debate last week my heart dropped.
With a sickened feeling in my stomach I prayed, "Come quickly, Lord Jesus. Just get me outta here. I don't want to face the future of what is happening in this country, regardless of who is in Washington."
I was reminded once again, that when all is well in my world and country and neighborhood and family, I get quite comfortable too. And I forget this world is not my home. Yet, how I begin to long for heaven again when it looks like everything is going to hell.
Then the Lord whispered to my heart: Where is your hope?
Forgive me, Lord Jesus, my hope is not in the man — or woman — who will lead this country.
My hope is not in the next U.S. Supreme Court justice.
My hope is not in the economy or how the stock market is doing or how my retirement accounts are faring.
My hope is not in my immune system or health, or a coming vaccine for the Coronavirus.
My hope is not even in when Disneyland will re-open and what that will mean for my precious daughter, a career Disney employee whose dream job has been put on hold because of all the crud going on in this country.
My hope is in Jesus who is still on the throne. My hope is in the sovereign God who "puts down one and exalts another" (Psalm 75:6-7). That means God is ultimately in control of who rules from China, Russia, or Washington D.C. As Job said, after He "saw" God's sovereignty over all the troubles in His life: "I know that You can do all things, and that no purpose of Yours can be thwarted" (Job 42:5).
Thank you, Jesus, that the future — our future — is completely in Your hands. Thank You that You are bigger than what is happening in this country (and all over the world) in 2020. No pandemic, political process, government mandates, economy, or moral condition of a country is beyond Your control, nor takes You by surprise. Calm my anxious heart with the truth that: "from everlasting to everlasting, You are God" (Psalm 90:2).
Who and what are you hoping in? Take a deep breath, my friend, and realize that if you belong to Jesus, this world is not your home. Yes, we must vote according to our convictions, and we can still make a difference while we're on this earth when we live with an eternal mission — to shine like stars in the sky and be a light amidst the darkness of these times (Philippians 2:15) and bring as many people as possible home with us to Jesus.
Our Jesus said, "My kingdom is not of this world" (John 18:36). Live like a citizen of heaven, one with an eternal inheritance (Ephesians 1). Live like one whose hope is in the King of Heaven and the King of your heart — not the kings of this earth.
For a daily calm and reminder that God is in control, read my purse-sized devotional book, God's Whispers to a Woman's Heart.