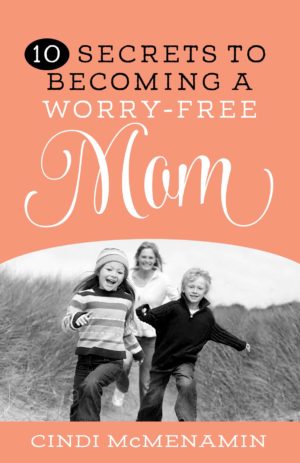 I'll admit it. I've said the words aloud or thought them many times.
And I'm guessing you have, too.
They're two of the most debilitating words a woman can say, especially when it comes to her children. These two words fill our minds with doubt and our hearts with fear.
They are the words: "What if…?"
What if my children get hurt?
What if they don't make friends?
What if they follow the wrong crowd?
What if they're lying to me?
What if they never get married?
And even: What if I'm not a good enough mom?
I realized one day, after spending time in God's Word, that at the root of all my "What if" questions and worry is what I really believe about God's character. When my mind plays through the various what ifs, the question I'm really asking is "What if God isn't able?" "What if God isn't good?" "What if God can't handle this?"
There's a reason God's Word tells me "Don't worry about anything; instead, pray about everything. Tell God what you need, and thank him for all he has done. Then you will experience God's peace, which exceeds anything we can understand. His peace will guard your hearts and minds as you live in Christ Jesus," (Philippians 4:6-7, NLT).
As I give God all of my what ifs, worries, and anxieties, He can calm my heart and remind me that He is in absolute control.
That was the lesson I had to learn myself before I wrote my book, 10 Secrets to Becoming a Worry-Free Mom. Based on my own experience mothering – as well as wisdom and advice from many other moms – I found that there are treasures (secrets, if you will) to discover as we surrender to God what is closest to our hearts – our children.
One of those treasures is the incredible peace He offers as the Perfect Parent who allows us to partner with Him in raising, loving, and caring (not worrying) for our kids.
When I give God what is closest to my heart I am saying "You, God, are capable. You are trustworthy. And all my worries and what ifs are in vain."
What are you saying – to God and to others – when you worry? And what would you like to start saying with your life and your actions from this point on?
I'm giving away three free copies of my brand new book, 10 Secrets to Becoming a Worry-Free Mom For a chance to win, let me know in the comment section below why you would benefit from reading this book. Winners will be announced on next week's blog. (U.S. residents or American Post Office boxes only please.)