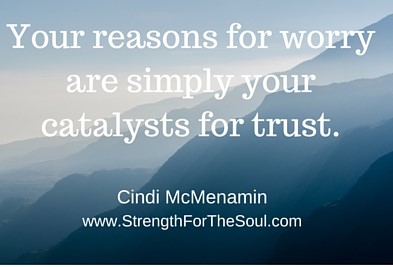 There are three things I could really worry and stress about right now.
And yet, I'm choosing not to.
Here are the concerns pressing in on me:
My husband is still in transition since he stepped out of the full-time pastorate to begin a sabbatical year and wait on God for what's next. It's now been two years. And we are still waiting for his city ranger job to go full-time or for God to open up a new door in ministry for him.
My daughter, now 23, still hasn't found an affordable place to live near her job which she loves. Thus, she is commuting an hour and a half each way almost daily in crazy Southern California traffic. How she longs to feel "settled in" in her new career and adult life.
My parents are aging and I now have a Dad with prostate cancer, a mom with diabetes, and a step-dad struggling with the middle stages of Alzheimer's. I live far away from them and wish I could be closer to help.
I guess you could say our lives are back to a day-to-day dependence on God when it comes to finances, work, our health, and so many other things. But then…isn't everyone's when you really think about it? Who of us is really in control of our circumstances from day to day? And when we recognize God has all our concerns in His hands, there is peace.
Philippians 4:19 tells us: "And my God will supply all your needs according to His riches in glory in Christ Jesus."
I'm grateful God has me and my family in that place where we must look for Him at every turn and wait for Him to come through for us at the end of every day. It builds our faith. It increases our dependence on Him. It keeps us humble. It keeps us in perspective. It keeps us on our knees in prayer.
THAT is why I'm choosing not to worry about all that concerns me and to trust the One who can change things at any moment.
What is the upside of what God is doing in your life in spite of what would normally cause you to worry? As you focus on the positives, you may begin to see what God wants to show you at this otherwise stressful time.
What is the one (or more) reason(s) you will go worry-free this year? Your reasons for worry are simply your catalysts for trust.
See my newest book, 10 Secrets to Becoming a Worry-Free Mom, to help you trust God with what is closest to your heart.