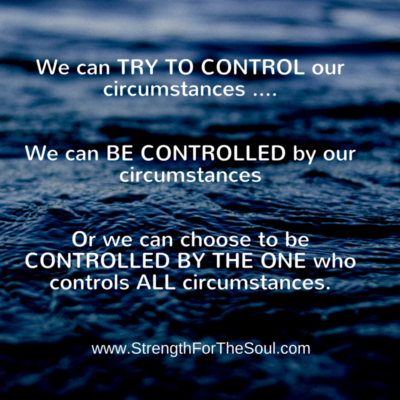 What a crazy week it's been. Fear. Panic. Hoarding of toilet paper. Cancelled flights (I had one of those!) and cancellation of events we were really looking forward to (we've all had at least one of those). 
I'm not one to give in to panic, to fear germs, or crowds or flying on planes. But who was prepared for a pandemic…and who even knew what that word meant before it was in the headlines?
But this unprecedented time in history gives us a good look at our fears and where we'd be if there was no God.
If there were no God, I'd fear for my health, for the health of those I love, and for the future of the human race.
If there was no God, I'd be panicked about my financial situation, and worried that the economy would crash, my investments would be wiped out, and I'd lose my house.
If there was no God, I'd be a wreck about where this world might be headed…
But there is a God…And He's still on the throne. 
There is a God – One who created the vastness of this world and every person in it — and the Coronavirus (or COVID-19 outbreak) did not take Him by surprise. 
Now, my friends, is the time to trust…to rest in the knowledge that God is in control, even though it might feel like the world is spiraling out of control. 
Jesus told us not to worry about our lives — what we'd ear or drink — or about our bodies (what we'd wear or how we'd fare in a health epidemic). He told us to look at how God tenderly cares for creation and to know we are worth much more to Him than the flowers of the fields and the birds of the air (Matthew 6:25-34).
Jesus also said: "What is the price of two sparrows—one copper coin? But not a single sparrow can fall to the ground without your Father knowing it.  And the very hairs on your head are all numbered.  So don't be afraid; you are more valuable to God than a whole flock of sparrows" (Matthew 10:29-31, NASB).
Worry or panic isn't even for the birds right now. If Jesus can care for the birds and flowers, He can care for us — panic, pandemic, and all.
If you are sensing the panic, personally, or hearing it among coworkers or friends, be the drama-free woman who responds maturely rather than reacts emotionally. Be the worry-free mom who can help other moms keep their heads level and their eyes on their HEAVENLY Father. Be the stress-free woman who rests in Jesus and realizes she never walks alone, even though you may be (or feel like you are) in isolation. 
Be brave, my friends. "For God has not given us a spirit of fear and timidity, but of power, love, and self-discipline" (2 Timothy 1:7). He's given us the power to overcome fear, the love to help others through this time, and the self-discipline to not freak out or complain, but to grow and flourish as a maturing woman of God.
 To help you be brave and not feel overcome by unexpected circumstances, I'm offering my book, Drama Free: Finding Peace When Emotions Overwhelm You for just $5 each (plus shipping) on my website this month only or while supplies last.