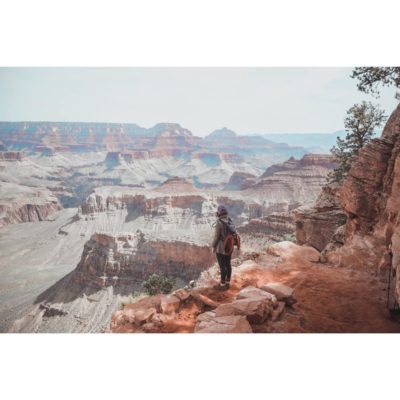 Recently, I'd been shaking my head at the fear and panic I've seen that surrounds the Coronavirus outbreak. Lines wrapped around the block to get into a grocery store (that is open 24 hours) in order to stock up on food? A mad rush for the toilet paper aisle at Target? Cancellation of travel plans, and talk that life will never be the same now that we are experiencing a pandemic (or fear of one)?
I'll admit I've never had a phobia about germs. I've never feared flying or being in crowds. I've never been sick much in my life. And I very rarely used antibacterial gel, unless it had a pretty scent and a cute holder from Bath and Body Works.
And I'll shamefully admit I used to be a bit critical of women who tended to panic, or had phobias.  How can anyone who knows God fear anything? I thought. 
And then I visited the Grand Canyon ten days ago with my daughter and my brother's family. I flew, even though it was recommended I didn't. I was around crowds even though it was recommended I not be. I'm so brave, I thought. And then… I crumbled in fear.
As we walked up on the vast canyon and I saw it with my own eyes for the very first time (rather than seeing it from the road while driving in), I was immediately terrified. It was amazingly beautiful and awesomely fearful all at the same time. It was so terrifying that I found myself not willing to go within 20 feet of the edge. Every time my daughter (pictured above) or my niece or nephew stepped within five feet of what I thought was a sudden dropoff, my heart raced, and at times I could barely breathe.
Is this a panic attack? I wondered. Is this what genuine fear feels like?
And then I had to ask myself the question I had previously judged others with: How can anyone who knows God fear anything?
I knew God. Yet, I felt paralyzed. What was I fearing? I feared my only daughter would slip over the edge to her death a mile straight down. I feared my brother's grown children wouldn't realize how close they were standing to the edge and would go over the cliff if a strong breeze came their way. I feared a little girl, whose mother wasn't holding her hand, would wander too close to the edge and lose her footing and fall to her death.
I feared what I could see from my perspective. But my fears weren't grounded in reality.
As I veered a little closer (while leaning backwards, as if I would be pulled into the canyon's vortex – it must have been a ridiculous sight!) I saw the reality of the situation. There were some rocks and a somewhat steep slope beyond the edge where I could see, but it wasn't a straight drop-off. When my daughter and nephew and niece stood close to the edge, from my visual perspective, it looked like they were about to go over into the vastness. But they were not in danger. From where I was standing, my judgment was skewed because my visual perspective was off. An optical illusion had me paralyzed in fear. I was afraid – no, I was terrified – of what I couldn't see clearly.
The next day, we all hiked almost two miles down into the canyon and back up again. The path was wider, there were still steep slopes, but I was in no danger of falling, and neither were my loved ones. I found myself embarrassed by my panic the day before when I was fearful of what I couldn't see and what I didn't understand.
I suppose it's like that with the Coronavirus.
From where you and I are standing, the future can look quite frightening. It can look like the world is spinning out of control. It can look like we're all going to go over the edge — financially, emotionally, and health-wise! But don't let those fears distort reality.
What's real and clear and certain is that we have a God who has this situation under control, even if it looks like the world is spinning out of control.
God told His people: "Do not fear, for I am with you; Do not anxiously look about you, for I am your God. I will strengthen you, surely I will help you, Surely I will uphold you with My righteous right hand.'" (Isaiah 41:10 NASB).
And in Philippians 4:6-7, we are told: "Don't worry about anything; instead, pray about everything. Tell God what you need, and thank him for all he has done. Then you will experience God's peace, which exceeds anything we can understand. His peace will guard your hearts and minds as you live in Christ Jesus" (NLT).
In other words, Jesus will keep you from going over the edge!
Cling to Jesus right now (as you keep your six-foot distance from everyone else)! Be a rock of strength to others (with your phone calls, your text messages, your emails or your video chats), leading them to the ultimate Rock and Refuge, the Lord Jesus Christ (Psalm 18:2). You will not fall over the edge that way. In fact, you won't even be terrified of the edge because You'll remember He's the One who holds "the edge" — and the condition of this world — in His loving, capable hands.
Be open to all what He wants you to learn right now about His character, about your need for growth, about your ability to be a source of comfort and strength to those around you because of Who you know and all He is capable of (2 Corinthians 1:3-4). And remember, He's the God in which you can hide away (Psalm 32:7) — your true cleft in the rock (Psalm 94:22).
I am now avoiding airports, staying away from crowds, and following government guidelines so I can protect myself, my family and others. And, instead of being a woman on the edge (in direct contrast to writing my book, Women on the Edge), and instead of being a panicked mom (after writing 10 Secrets to Becoming a Worry-Free Mom), and instead of being drama-filled, since I did author Drama Free, I'm now the woman who is enjoying the insights I wrote about 16 years ago in my book When Women Long for Rest: Finding Peace for Your Overwhelmed Life. 🙂
How are you dealing with fear, panic, or the need for a deeper trust in God right now? I'd love to hear it in the comment section below, along with where in the world (or the U.S.) you are located. Let's encourage one another.
And to help you deal with the fear, panic, or the drama of unexpected circumstances, see my books Drama Free: Finding Peace When Emotions Overwhelm You, or Women on the Edge, both on sale at my website for just $5 each (plus shipping) this week only or while supplies last.