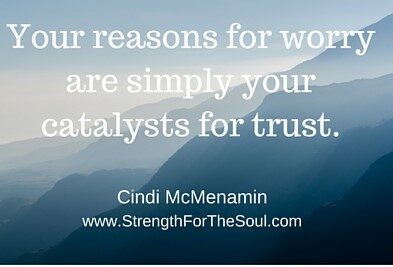 Last week I gave you Four Ways to Trust God When Money is Tight. This week I want to give you four more ways, that are both inspirational and practical and one of them just may blow your mind.
1. Gain wisdom through God's Word.
Sometimes we are just foolish when it comes to spending, borrowing, and handling our money. Debt is often the consequence, as is feeling we are under too heavy of a burden to ever repay or be financially free again. But that doesn't mean God can't still work in our lives, teach us lessons, and get us back on the road to financial recovery.
The Book of Proverbs is full of financial wisdom and warnings about getting into debt, living beyond your means, and going into business with someone you can't trust. Read it and take its advice when it comes to business dealings, spending money you don't have, and charging – or paying – excessive interest. I've also seen God work through Dave Ramsey's Financial Peace University, and other resources that are available to help believers who want to start doing things right, financially. Do what it takes to become wiser and more responsible when it comes to the money God has entrusted you with.
2. Welcome the faith adventure.
Trusting God for His provision when it looks bleak is truly an adventure in faith. Yet, we have a God who is not only pleased by our faith (Hebrews 11:6), but who also loves to come through for His children (Matthew 7:9-11).
Do you know what it's like to get an unexpected check in the mail on Monday for the exact amount of an unexpected car repair bill you receive on Tuesday? Your unforeseen financial situations don't take God by surprise and as you trust Him and honor Him with what you have, you will continually see Him come through for you. See your "unforeseen financial situation" as the beginning of an exciting adventure God is waiting to lead you through.
My family has seen God come through for us, financially, in incredible ways through the years. In fact, each time He does, we write it down on a small piece of paper and hang it on a loop we call our "blessing ring." At the end of each year, we read through each of those blessings and are reminded again of God's faithfulness.
3. Practice generosity.
You heard that right. Be generous. Sometimes we think the more money we hold onto, the more we'll have. But the opposite is true in the Kingdom of God. The more we give, the more God gives us so we can keep on giving. In Second Corinthians 9:6-11 we are told that as we give generously and cheerfully "God will generously provide all you need. Then you will always have everything you need and plenty left over to share with others" (verse 8).
As you live generously toward others, Scripture promises God "will provide and increase your resources and then produce a great harvest of generosity in you. Yes, you will be enriched in every way so that you can always be generous" (verses 10-11). Pray that God will help you be generous with what you have so you will always have money to give to those who are in need.
4. Choose contentment.
The Apostle Paul told the early Christians "I know how to live on almost nothing or with everything. I have learned the secret of living in every situation, whether it is with a full stomach or empty, with plenty or little. For I can do everything through Christ, who gives me strength" (Philippians 4:12-13). A few sentences later in that same letter, Paul assured them "And this same God who takes care of me will supply all your needs from his glorious riches, which have been given to us in Christ Jesus" (verse 19).
Can you be content with little if that is what God has ordained for you?There is joy in living simply, in giving things away, tossing out clutter and not collecting more, and determining to live on less. Most of us have no idea how much excess we already have and how little we really need to not only get by, but to be happy. Practice contentment and you may find your financial worries aren't nearly what they used to be. First Timothy 6:6 assures us that "godliness with contentment is great gain" (NIV).
For help with trusting God more and worrying (or striving) less, see my book, When Women Long for Rest, in which I share practical helps in my chapters "Choosing to Live a Simpler Life" and "Returning to the Joy of Simple Pleasures." (And to further help you, financially, I slashed the price of that book this week only!)