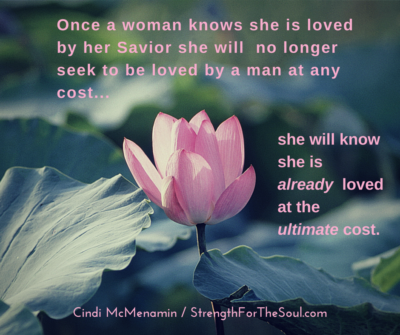 What if the man you are longing for loves someone else?
I am dedicating the next few weeks on my blog to answering questions women ask.
A reader recently asked me: "Is it worth being in a relationship with someone who may be in love with someone else but whom he cannot be with?"
My heart breaks at this question because it tells me another woman out there is lonely in love to the point that she will settle. It's not her fault. She's been made to believe that if she tries harder, or sticks in there longer, or loses more weight, or changes her behavior in some way, this man will begin to love her, or love her more, or love her once again.
I  know of many women who would rather be with a man who doesn't love them — or who treats them badly, or who just tolerates them — than to be alone. Yet, if we settle for whatever we can get in our relationships, we will always have what exists on the bottom wrung.
When women find their worth in God's eyes, they will understand that they are loved with an everlasting love (Jeremiah 31:3), and that they are unforgettable to God (Isaiah 49:15), and that they are truly sought after (Isaiah 62:12).
Once a woman knows she is truly loved by her  Savior, she will no longer seek to be loved by a man at any cost. She will know she is ALREADY  loved at the ultimate cost. Jesus — God in the flesh — laid down His life for her on a Roman cross so that she would not have to die in her sins. It was the only thing that could be done so He could spend eternity with her. Knowing we have been rescued with that kind of unconditional, redeeming love, how could any man on this earth compete for our hearts?
So, my friend… No, it isn't worth it to love and long for a man who really isn't sure how he feels about you. If he loves someone else, but you are the one who is available and she is not, you need to make yourself unavailable to him…and available to whomever God might bring into your life once you raise your standards and say "I want my Heavenly Father's very best…and I will hold out for nothing less."
Keep your eyes open for a man who will love you as God already loves you and suddenly the bar will be much higher — and your chances of being hurt or betrayed will be much lower.
What is the question that is burning on your heart? Ask me in the comment section below and I will do my best to answer it in the coming weeks.