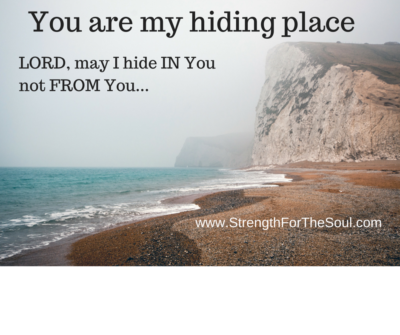 Do you know what it's like to experience God as your hiding place?
For years, one of my favorite verses in Scripture was David's song in Psalm 32:7: "You are my hiding place; You preserve me from trouble; You surround me with songs of deliverance."
It's a beautiful song and it conveys God's comfort and protection and the way He sings over us (Zephaniah 3:17). But I recently realized, for the first time, that these words of David's are in the middle of his song of repentance — He was confessing to God the sin he had been trying to hide from God.
No longer wanting to hide anything from God, David said he wanted to hide himself IN God. And then he tells us what happens next. God will "preserve me from trouble" and "surround me with songs of deliverance."
God is the One who ultimately protects us from trouble — or temptation,  which causes us to get into trouble. As we hide ourselves in Him, He will surround us — or protect us — with songs of deliverance to get us out of the temptations we face that lead us toward sin.
What are the songs of deliverance God surrounds us with?
The song of our salvation (Isaiah 26:1)
The song of His constant presence (Psalm 139:7-12)
The song of having bought us with a price (1 Corinthians 6:20)
The song that we are loved with an everlasting love (Jeremiah 31:3)
Lord, may I run to You , not from You, when temptation comes my way. May I see You as my hiding place when I begin to feel weak in my flesh. Help me to truly know that when I hide in You it is then that I have died with You so that my life can be "hidden with Christ in God" (Colossians 3:3).
Lord, tune my ears to Your songs of deliverance to keep me from breaking Your heart.
Do you have a song of deliverance that keeps you from breaking God's heart? I'd love to hear it in the comment section below.