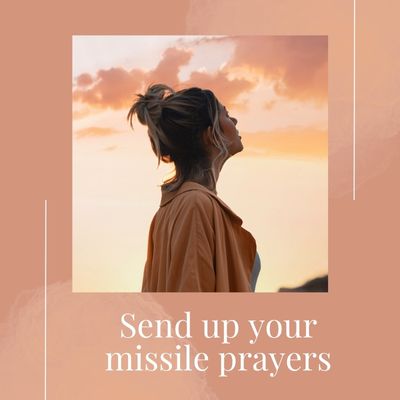 I recently gave you some prayers that can help stop negative thoughts before they have a chance to take hold of your mind.
But what about when you're in the heat of the moment and you don't have a chance to go into your "prayer closet" and pour out your heart to God?
It happens. Negative thoughts creep in, you start entertaining the "what ifs" and before you know it, full blown anxiety has settled into your heart and mind. Or, you suddenly feel under attack by a boss, family member, or someone you considered a friend.
You don't have to play host to that unwanted guest of negativity, that cycle of anxiety, or that unwarranted attack anymore. You can have a plan. And you can do that by following the example of Nehemiah in the Bible, and start sending up some "missile" prayers.
The prophet Nehemiah was surrounded by negativity, criticism, scheming, and harassment when he was attempting to rebuild the wall around Jerusalem. Even though he was following God's calling on his heart (he was literally on a mission from God!), he experienced an onslaught of opposition from people who pretended to be supportive. Thus, Nehemiah learned to send up "missile prayers"—short, powerful prayers to God—in the heat of the moment. Nehemiah narrates his story and doesn't tell us he found a quiet place to get down on his knees and pour out to God many eloquent words, or even that he always had another person to pray with him. He just includes phrases like, "So I prayed to the God of heaven" (Nehemiah 2:4) and "But we prayed to our God" (4:9). In some cases, he fired off his distress call to God in the form of missile prayers like: "O God, strengthen my hands" (Nehemiah 6:9) and "Remember me" (5:19; 13:14, 22, 31).
Here are some missile prayers based on some Psalms and New Testament verses that you can use when negative thoughts begin to assault you:
Lord, show me the right path (Psalm 25:4).
Lead me by Your truth, God (Psalm 25:5)
Lord, extinguish that flaming dart (Ephesians 6:16).
God, You are for me, so who can be against me? (Romans 8:31)
I believe, Lord; help my unbelief (Mark 9:24)
God, send out Your light and truth (Psalm 43:3).
Fight for me, Lord; I will remain still  (Exodus 14:14)
Jesus, show me Your truth (John 14:6).
Lord, examine my heart and mind (Psalm 26:2).
Calm my anxious heart, Lord (Philippians 4:6)
Keep me focused on whatever is true and right (Philippians 4:8)
Set my heart on things above, Lord (Colossians 3:1).
And here's one that's a bit longer, but just as effective that can keep you from trouble every time:
Search me, O God, and know my heart; test me and know my anxious thoughts. Point out anything in me that offends you, and lead me along the path of everlasting life" (Psalm 139:23-24 NLT).
Feel free to come up with your own missile prayers. (Some of the early church fathers called these "breath prayers" because they can be uttered as often and naturally as breathing in and out.) I'd love to hear your favorite missile or breath prayers in the comment section below.  And let's keep praying.
(For more brief prayers that can make all the difference in your day, see my book, God's Whispers to a Woman's Heart, now on sale in my website store.)