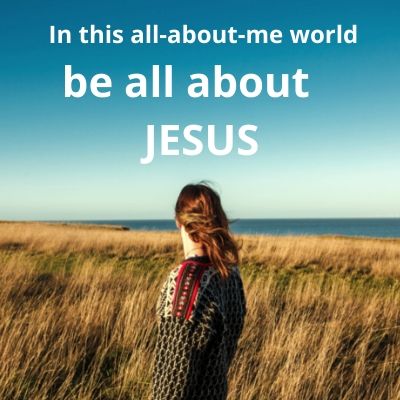 Easter isn't just a one-day-a-year celebration. The fact that Jesus rose from the dead gives us extraordinary hope to live every day differently.
Jesus said He came to give us "life to the full" (John 10:10). Jesus knew when we find our satisfaction in our Savior, there's little else we want and need. Because of His life, death, and resurrection, we not only can hold onto hope for life after the grave, but in Him we can also find fulfillment that can't be found anywhere else on this earth.
Here are five ways to celebrate your life in the risen Savior every day:
Remind yourself daily that God is in control—always.
One of the most steadying concepts I learned about God while I was still a teenager, is that nothing takes Him by surprise. To be assured of His absolute sovereignty and the fact that nothing happens to you—or those you love—without first passing through His loving hands, can be monumental in helping you trust Him, and not worry or experience fear or anxiety.
You either trust God is sovereign or you don't, and when you trust Him, you can rest in the fact that He is good. That enables us to love Him completely, trust Him immensely, and experience life to the full. Each day that you whisper "Nothing takes You by surprise, God" you are acknowledging His control over all the events of your life, and reminding yourself that He is Lord of all and He is capable of helping you through anything. That is reason to celebrate.
Maintain a heart of gratitude.
Scripture commands us to be thankful in all circumstances because "this is God's will for you in Christ Jesus" (1 Thessalonians 5:18). Any time you are in the will of God, you will experience life to the full. And according to that verse, the easiest way to know you are living according to God's will is to be thankful in all things, not just the good things.
A key element of faith is truly believing that not only is God in control of all things, but He really can work all those things—even the bad things—for good to those who love Him and are called according to His purpose (Romans 8:28). That assurance enables us to thank Him for everything that comes our way because, as we surrender it all to Him, He will make us more like His Son through it (Romans 8:29).
Pray about everything.
You can miss life to the full if you are full of stress, anxiety, or fear. Stress and fear come when we find ourselves unable to control our situations or schedules. Or when we bathe a situation in our minds with a number of "what ifs." Yes, fear is a natural response, but only if you're not looking to the supernatural God. Philippians 4:6-7 tells us "Don't worry about anything; instead, pray about everything. Tell God what you need, and thank him for all he has done. Then you will experience God's peace, which exceeds anything we can understand. His peace will guard your hearts and minds as you live in Christ Jesus" (NLT).
A person who prays doesn't stress. A person who prays isn't anxious. A person who prays experiences peace.
     4. Find ways to serve others.
We are happier when we aren't all about ourselves. And serving others helps us become less selfish. Pray that God will give you discernment about the needs of others around you (because many times they won't ask for help), and ask for His direction in how to help. As you develop a heart for others, you become more like Jesus and that is living life to the full.
Praise Him for His daily presence.
Intimacy with God begins with an awareness of His constant presence and a communion with Him, regardless of where we are and what we're doing. Psalm 16:11 says "In Your presence is fullness of joy; at Your right hand there are pleasures forever" (NASB). Being in God's presence doesn't happen once a week when we're in church or someday future when we're in heaven. Emmanuel means God with us. Always. A constant awareness of God's presence brings God into the moment and we can learn to enjoy Him during contentment, seek His comfort and stability during uncertainty, and pour out our hearts to Him when we feel like crying or complaining.
Which of these will YOU focus on during Easter week and beyond? I'd love to hear it in the comment section below.
(And for more on living life to the full, see my books, Letting God Meet Your Emotional Needs and God's Whispers to a Woman's Heart.)