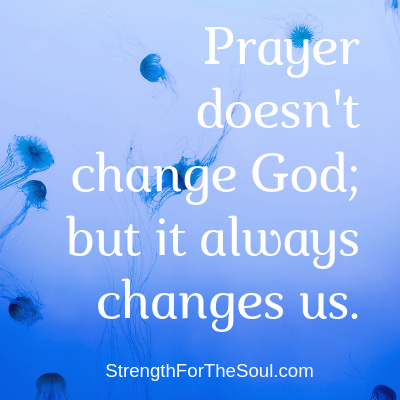 Are negative thoughts sabotaging your day by dictating to you what to fear and how to feel? Don't let them have their way with you anymore.
Whether it's fear, doubt, a critical spirit, anxiety, or just the dreaded case of the what ifs there's a way to close the gate on all of that negativity entering your mind and dragging you down. Prayer is the ultimate stopper. But not just praying after the fact. Here are three ways to pray to stop negative thoughts in their tracks before they begin to consume you or affect your attitude.
Catch and correct negative thoughts through prayer.
Those who fish often practice "catch and release." But in prayer, you can incorporate a "catch and correct" method and instead of releasing negative thoughts to keep running wild through your mind, you actually bind them by correcting them with the truth of God's Word. Second Corinthians 10:5 instructs us to "destroy arguments and every lofty opinion raised against the knowledge of God, and take every thought captive to obey Christ" (ESV, emphasis added).
In my book, Drama Free, I explain we are instructed to take our thoughts captive to the obedience of Christ because we are in a spiritual war in which the enemy will do his best to run rampant through our thought life, creating doubt, fear, chaos, and confusion. Do you realize that when you feel overwhelmed by health problems, or too may commitments, or relationship difficulties, or emotional distress, it's possible the enemy of your soul has already formed a stronghold within you and is having a heyday with your thought life? Your only defense is to take those misdirected thoughts captive to the obedience of Christ so they are not running loose in your head and wreaking havoc with your emotional state.
Taking our thoughts captive to the obedience of Christ means capturing or binding them with the truth of God's Word. If your thoughts tell you that you are alone, capture them and correct them with the truth of Hebrews 13:5 that God will never leave you, nor forsake you. If your thoughts are telling you to leave your spouse and pursue what you want, capture those thoughts and correct them with the truth of 1 Corinthians 13:8: "love bears all things, believes all things, hopes all things, endures all things." Here's an example of how to pray to stop negative thoughts based on 2 Corinthians 10:5:
Lord, I crush every thought that is contrary to Scripture and capture it and correct it with Your truth. Don't let this idea exist that [your negative thought] is stronger than You and what You can do in my situation. For "with God all things are possible" (Matthew 19:26).
      2. Tell yourself what to think through prayer.
In Psalm 42, the sons of Korah escaped depression and other negative thoughts by telling themselves what to think through prayer. For example, the psalmist asked himself in verse 5: "Why are you cast down, O my soul, and why are you in turmoil within me?" Then he solved his own problem by telling himself what to do: "Hope in God; for I shall again praise him, my salvation and my God."
Here's how to pray Psalm 42:5 to stop your own negative spiral downward:
Lord, why am I feeling [insert your emotion]? Why are my thoughts so focused inward on self? Why do I lack [hope /purpose/ compassion / a sound mind] today? Realign my mind to know that You are the God of hope, the Answer to all confusion, the Truth in any situation, the Deliverer from any danger. I put my hope in You, God. Rid me of these thoughts that hold no power over my heart and mind which belong solely to You. In Jesus' Name, amen.
     3. Pray away the worry with thanksgiving.
Scripture gives us an antidote to worry and negative thoughts. Philippians 4:6-7 is an excellent prescription that really works if we follow it closely: "Don't worry about anything; instead, pray about everything. Tell God what you need, and thank him for all he has done. Then you will experience God's peace, which exceeds anything we can understand. His peace will guard your hearts and minds as you live in Christ Jesus" (NLT).
Worry is simply giving in to those negative thoughts. According to this passage of Scripture, we are to worry about nothing and instead pray about everything. When we do, along with telling God what we need and thanking Him for what He is already doing, we will experience God's incomprehensible peace which will prevent us from continuing to worry and be drug down by its effect on us. Here's how to pray with Philippians 4:6-7 as your guide:
Lord, Your Word commands me to worry about nothing and instead to bring my restless thoughts and anxieties to You, who controls every situation, even my level of fear and panic. Lord, I give You [name your situation or the person you're having negative thoughts about] and ask that You [name your request]. Thank You for all You've done for me already and all You will continue to do to work this situation for eternal good in my life. Keep me focused on You and Your power, so that I may experience Your peace and not be tormented by my worries or fears of what might happen. In the Name of Jesus, through whom all things are possible, amen.
For more on overcoming negative thoughts and emotions and binding them with a better knowledge of the Word of God, see my  books, Women on the Edge, When a Woman Overcomes Life's Hurts, 10 Secrets to Becoming a Worry Free Mom, and Drama Free.