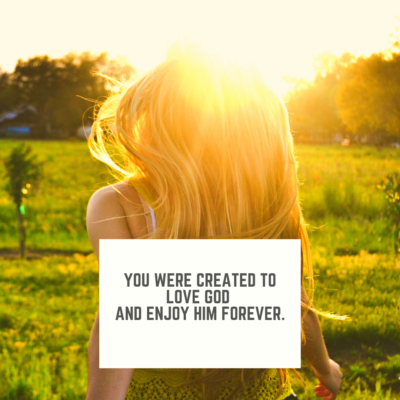 Last week I wrote about three lies we tend to believe about God that keep us from enjoying a more intimate relationship with Him. This week I want to give you three more. If they're lies you believe, knowing Scriptural truth may help you realize that God is so much more than you were taught or that you imagined and He's waiting for you to discover it.
Here are three more lies we tend to believe about God and what to believe instead:  
Lie: God insists that you "grow" through life, not enjoy it.
Let's get something straight. Life has its share of difficulties, with or without God. When we love God, and are called according to His purpose, we can trust Him to bring good out of difficult situations and make us more like His Son through them (Romans 8:28-29). But that doesn't mean God refuses to allow us enjoyment while we're on this earth. Jesus came to give us life more abundantly (John 10:10), not life more miserably. And even though Jesus was called "a man of sorrows and acquainted with grief" (Isaiah 53:3), that doesn't mean He frowns upon our laughter and enjoyment. To the contrary, the Psalmist said there is "fullness of joy" in God's presence, and "pleasures forever" at His right hand (Psalm 16:11 NASB). Start living by the truth that you were created to love God and enjoy Him forever.
Lie: God doesn't want you to have any fun or experience any joy.
God created adventure and the idea of fun. He is the author of spontaneity, excitement, laughter, and joy. So if you think He's the One holding you back from a better, more exciting life, you just don't know Him very well.
In John 10:10, where Jesus told us He came to bring us life more abundantly, He also reminded us that Satan is the thief who seeks to steal, kill, and destroy. Don't get the two mixed up. If Satan can lure you into what you think will be fun (any attempt at fulfillment apart from God) and make you believe God is a kill-joy, he'll get you right where he wants you – feeling devastated and desperate for something more. Trust the God who loves you with an everlasting love (Jeremiah 31:3) and who can do "immeasurably more than all we can ask or think" (Ephesians 3:20). You will find His way of fun,  fulfillment, and peace is a lot better and more fulfilling than yours – or anyone else's.
Lie: God doesn't want you to succeed.
Years ago the "health and wealth" gospel had many of us cringing. To imply God simply wants you to be rich and happy isn't biblical. But sometimes we can take a martyr approach and conclude that God doesn't want us to be successful at all. The truth: God wants you to succeed, but according to HIS definition of success.
God knows better than we do how personal success can cause us to rely on ourselves, rather than Him. Thus, Scripture instructs us to humble ourselves in God's presence and He will exalt us (James 4:10). That doesn't mean He doesn't want us to succeed. It means He wants to direct us toward His idea of success so that we will remain humble, surrendered, and obedient to Him.
Psalm 1 says "Blessed (or successful) is the one who does not walk in step with the wicked or stand in the way that sinners take or sit in the company of mockers, but whose delight is in the law of the Lord, and who meditates on his law day and night (verses 1-2). Verse 3 tells us, "whatever they do prospers." God loves to bless those who trust Him and look to Him for their strength (Jeremiah 17:7-8). Don't think God doesn't want you to be successful. He just wants you to define success His way.
In Matthew 6:33, Jesus said "But seek first the kingdom of God and his righteousness, and all these things will be added to you." In addition, Psalm 37:4 tells us, "Delight yourselves in the Lord, and He will give you the desires of your heart."
Instead of believing that God doesn't want you to succeed, a more biblical thought is "God wants to bless as I get my priorities right." God's idea of success is often different than yours. Try striving after God's definition of success and you will find He equips you with all you need to be the person of God He has purposed.
Which of these lies will you stop believing today? I'd love to hear it in the comment section below. (And for more on defining success God's way and becoming the woman He desires, see my books, When Women Long for Rest and Women on the Edge.)