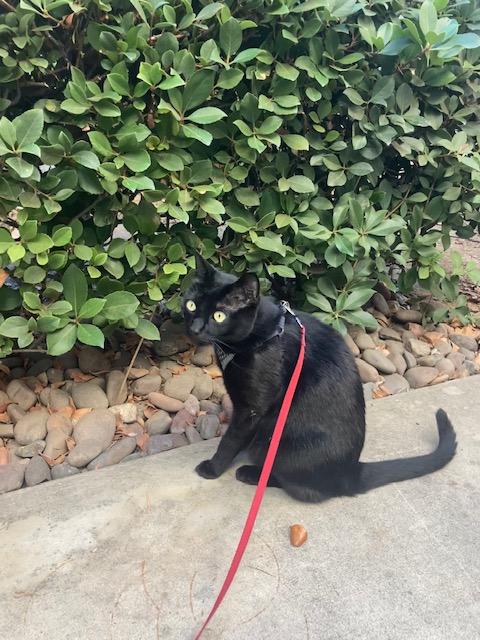 I recently learned something about myself — and my Savior — from my black cat, Mowgli.
Each morning after exercising, I will ask him, "Mowgli, would you like to go outside?" After his enthusiastic "meeeroooowww," I say, "Then come on, let's get your harness" and he runs excitedly to the closet door where his harness and leash are kept.  (I know, he is more like a dog, than a cat).  He then prances toward the sliding glass door after he is securely harnessed.
Mowgli has to be on a leash every time he's with me outside, even if I'm right next to him, because he tends to get frightened of other people or sounds he can't identity (like the horribly scary noise of the community's trash truck). When he gets frightened or when he starts to wander and his leash wraps around something and he suddenly feels restrained, he will panic, struggle out of his harness, and try to bolt away. (And black cats on the loose are not safe because people who are superstitious often try to harm them. Especially the closer it gets to Halloween!)
For the most part, Mowgli and I enjoy a wonderful morning outside together as I write articles on my laptop or respond to emails and he sits contentedly on the patio, leash securely attached. Now and then, as he tries to get a little further away from me to explore, I find myself saying "Not too far, Mowgli. Not too far." If I run in the house for something (after attaching the end of his leash to a patio chair), he'll watch and wait patiently for me to return, where he feels safe again.
But every once in awhile…
when a hummingbird swoops in real low and teases him, or
when a critter is rustling in the leaves nearby, or
when an insect crawls across the patio, or
when a butterfly or bee gets his attention…the hunter in him will engage, lunge forward, panic at his sense of restraint, and then wiggle quickly out of his harness and make a run for his potential kill.
That's when I have to go after him. And when Mowgli realizes he's free to wander, he tends to play a "catch me if you can" routine that stresses me out. After I catch him, I bring him back inside and tell him firmly, "no going outside again if you can't stay in your harness."
Today I found myself saying to him, after he was back inside and whining that he couldn't go out again, "Why can't you stay in your harness? Don't you know I want to keep you close so I can keep you safe?"
Oh how God must want to tether my heart to Him to keep me safe as well.
In Psalm 71:15 the Psalmist said, "My mouth will tell of your righteous deeds, of your saving acts all day long— though I know not how to relate them all."
How many times has God seen me try to wander too far from His instruction, too close to temptation, and too close to something I might start loving more than Him and He gently applies the restraint, pulling me back to His side? How often has He seen me try to wiggle out of the harness of His love and pursue something that will never satisfy? Surely He always wants me tethered to Him to keep me from getting tangled up in the world, or distracted by something that wasn't meant for me. Perhaps He is keeping me from pride, temptation, physical danger, or just by His side so I will be content and can enjoy life with Him.
David said in Psalm 16:11: "In Your presence is fullness of joy; In Your right hand there are pleasures forever."
I wonder if at times God asks me the same question I ask Mowgli: Don't you know I want to keep you close to keep you safe? Why would you want to wander?
The old hymn Come Thou Fount of Every Blessing rings through my mind this morning.
"Oh, to grace how great a debtor
Daily I'm constrained to be
Let Thy goodness like a fetter
Bind my wandering heart to Thee
Prone to wander, Lord, I feel it
Prone to leave the God I love
Here's my heart, oh, take and seal it
Seal it for Thy courts above."
Lord, like the Psalmist, my mouth will declare your glorious deeds, of your saving acts all day long, though I know not how to relate them all.  Keep me close to Your side. Why would I EVER want to wander?
What have your pets taught you about yourself or the love of Your Heavenly Father? I'd love to hear it in the comment section below.