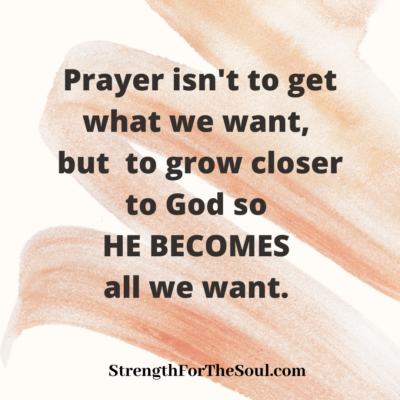 What are you believing about God that isn't true? And is it holding you back from a more intimate and enjoyable relationship with Him?
Maybe you've reached a point in life where you feel God is holding you back – that He doesn't want you married or successful, or even happy.
If you grew up in a religious home that stressed rules rather than a relationship with God, it's possible you associate your faith with a dysfunctional childhood or legalistic rules and restrictions. But God is not a religion or a set of rules. He's the One whose Word says His precious thoughts about you outnumber the sand (Psalm 139:17-18). And if you blame God that you aren't getting further in life because He wants you miserable ever after, you won't find any Scriptural support for that opinion or mindset. Rather, He is the God who is able to do "immeasurably more than all we can ask or think, according to His power that works within us" (Ephesians 3:20).
Here are three lies we tend to believe about God and the biblical truth that shatters them:
Lie #1: God wants you to be holy, NOT happy.
God wants you to be holy AND happy as He blesses your life with what is best for you eternally. When our hearts are set on something, and God doesn't appear to deliver, we often conclude that He doesn't want us to have what will make us happy and that He only wants our spiritual growth. But God desires both for us. And as we grow spiritually, and surrender to His will, we will be happy. While our temporary happiness is never God's goal, He knows when we begin to live with eternal priorities, we will find joy.
As I wrote in my book, When God Sees Your Tears, some of God's best gifts to us are the things He withholds. Psalm 84:11 tells us "For the Lord God is a sun and shield; The Lord gives grace and glory; No good thing does He withhold from those who walk uprightly (NASB). So, if you're walking uprightly and asking God for something good, and He appears to be withholding, it's not because He is holding you back or doesn't want your happiness. It could mean He is withholding because He has something better to give you that you haven't yet thought to ask for. It could also mean that what you are asking for isn't truly good for you, or it isn't time.
Lie #2: God isn't answering your prayers because He's mad at you.
I received an email from a man who was tired of praying. He was tired of asking God for things and getting what he said was nothing in return. He apparently wanted to be the exception on this earth when it came to experiencing pain, difficulty and loss, and blamed God for his circumstances. Throughout the man's email was a heavy use of the pronouns "I" and "me." He was clearly disappointed that God had not met his expectations. But this man clearly missed the point. God doesn't exist for us. We exist for Him. And prayer isn't to get what we want, but to grow closer to God so He becomes all we want.
We don't have a relationship with God in order to get something from Him. (That would be our relationship with Santa Claus or Amazon Prime.) God doesn't just give us whatever we ask, so we can be happy for the moment, regardless of whether or not it's good for us. Matthew 7:11 says He's a far better parent than any human and He gives good gifts to His children. When we push our selfishness and sense of entitlement aside, we can begin to see that God does not exist to push our personal agendas. If you find yourself thinking that God is ignoring you, isn't being fair with you, or is holding you back, I urge you to reacquaint yourself with His love that endures forever (Psalm 136) and His intimate knowledge and attention to your every detail (Psalm 139). When you understand who He is and what He has done, your wants will be secondary to His and what He deserves from you.
Lie #3: God expects you to be busy and work hard in order to please Him.
Somewhere we got the idea that God wants us to work for Him, to be busy in ministry, and burn the midnight oil in order to be a "good Christian." We live in a world in which we must work hard for just about everything. But in God's economy, it doesn't work that way. God would rather have you spend time with Him than do a bunch of things for Him.
Ourwork for God's kingdom stems from our Savior's command to "make disciples of all nations, baptizing them in the name of the Father and of the Son and of the Holy Spirit" (Matthew 28:19). God wants our service that flows out of our faith, obedience, and love for Him, not our obligation to feel approved or accepted by Him, or to have a false assurance of a works-based salvation.
If you are busy working for God and finding yourself running on empty, running behind, and running into debt, try abiding (resting/dwelling) in Him. Work that provides for your family, shows love to your neighbor, and is from an honest and diligent heart is work for God. Don't categorize between the spiritual and the secular. Colossians 3:23 says, "Whatever you do, work heartily, as for the Lord and not for men." Whatever your work, whether it be for the church or not, is considered a work for God when it's done with a heart to please Him.
Which of these lies do you need to stop believing today? What truth will you focus on instead? I'd love to hear it in the comment section below.