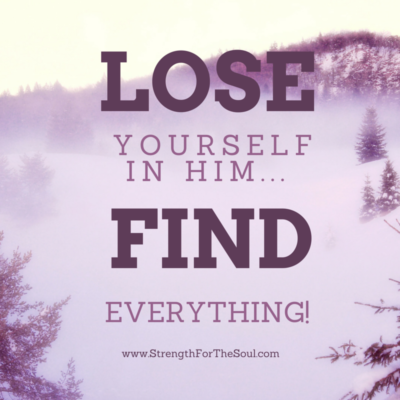 It is quite popular these days to be on a search to find yourself. To pull away from friends, family and the rest of the world in pursuit of who you REALLY are.
I've talked with a few women lately who are in the throes of trying to find themselves. They are, in a sense,  looking for their purpose, searching for their identity, determined to no longer be what the world expects them to be.
This search sounds virtuous on the exterior. "Good for you," we might say in response, trying to be a loving, supportive friend. But on the interior it is a futile quest.
We can find neither our purpose, nor our significance apart from our Creator and His purpose for us. We have been created to love God and enjoy Him forever.
I remember when I was trying to find myself  during a few short months of my college years  by living outside the lines, apart from the rules, wandering, rebelling.  It didn't take me long to realize that without Christ in my life, I was SO lost…and apart from Him I am nothing (John 15:5).
Jesus said in Matthew 10:39:
  He who has found his life will lose it, and he who has lost his life for My sake will find it.
Rather than finding myself….I want to be so lost in my love and adoration for Jesus, that I no longer exist. Galatians 2:20 is a goal:
 I have been crucified with Christ; and it is no longer I who live, but Christ lives in me; and the life which I now live in the flesh I live by faith in the Son of God, who loved me and gave Himself up for me.
When we identify ourselves with our Savior — the One who gave Himself for us — we have no other option but to give ourselves completely to Him. And by doing so, we cease to exist and He lives through us.  What does that look like in everyday life? It means we develop the mind of Christ, the attitude of Christ, the demeanor of Christ. ("It is no longer I who live, but Christ lives in me.")
If that sounds far-fetched, then picking up your cross and following Him is perhaps something you're not ready to do. But it is something we are all called and commanded to do if we truly long to follow Him (Matthew 10:38).  And when we grasp the extent to which Christ lost Himself for us, we can do nothing less than lose ourselves  (and thus, give ourselves) to Him.
Today I was inspired by the words of Usher (yes, Usher) in his song that surely wasn't written for Jesus, but when I hear it, it becomes my love song to Christ:
I am lost, I am vain,

I will never be the same without You.
Are you trying to find yourself?  Lose yourself in Him and all He has done for you. And I guarantee, you will never be the same.