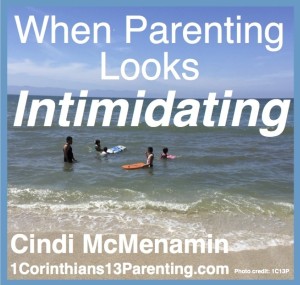 Do you ever feel intimidated as a parent? If so you're not alone.
I'm now a featured blogger at First Corinthians 13 Parenting and this morning  I'm offering some comfort and encouragement for those days you feel intimidated and not quite up to the task. For me, it started when my daughter was a teenager.
So, hop on over to the First Corinthians 13 Parenting blog this morning and find some comfort and encouragement meant just for you.
And please let me know what you think of my new friends over there. I KNOW you'll find something on their site to minister to your heart today.
Read more about "When Parenting Looks Intimidating" HERE.