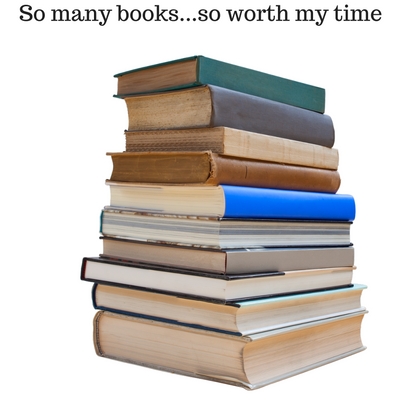 I thought it was time to put together a list of the 10 best (and most challenging) books I've read in the past 10 years.
These books have convicted my heart, challenged my theology, helped me grow, opened up my eyes to new insights, and helped me love Jesus more. When we love Jesus more we can be a better wife, mom, daughter, sister, friend, employee, neighbor, and so on.
Wow, it was hard to confine this list to just 10 (and I omitted some great titles I've read more than 10 years ago), but these are the books I need to re-read now and then because their principles are timeless. And this list is in no particular order…I'd rate them all No. 1:
A Praying Life: Connecting with God in a Distracting World by Paul E. Miller (There are golden nuggets in this book that I think about daily and I can't forget his description of how cynicism in this world affects us.)
Slave: The Hidden Truth About Your Identity in Christ by John MacArthur (You will never again confuse the word "servant" — which is a profession — with "slave" — which is a purchased possession. We are God's slaves.)
Say Goodbye to Regret: Living Beyond the Would-Haves, Could-Haves, and Should-Haves by Robert Jeffress
Grace Gone Wild: Getting a Grip on God's Amazing Gift by Robert Jeffress
The Life You've Always Wanted: Spiritual Disciplines for Ordinary People by John Ortberg
The Apocalypse Code: Find Out What the Bible Really Says About the End Times and Why It Matters Today by Hank Hanegraaff
The Last Days According to Jesus: When Did Jesus Say He Would Return? By R.C. Sproul (If you think we're living in the "last days" that the Bible refers to, I challenge you to read this one!)
Radically Obedient, Radically Blessed: Experiencing God in Extraordinary Ways by Lysa TerKeurst
When People are Big and God is Small: Overcoming Peer Pressure, Codependency, and the Fear of Man by  Edward T. Welch (Ok, I read it 15 years ago, but just revisited it this week as I was finishing up my book, Drama Free — which releases in March. We are drama when we fear people more than we fear God!)
Suburbianity: What Have We Done to the Gospel? Can We Find Our Way Back to Biblical Christianity? by Byron Forrest Yawn.
Which books have been life-changers for you? Please let me know in the comment section below. I'm sure I — and my readers– can glean from your list, too. Keep reading books and keep growing!