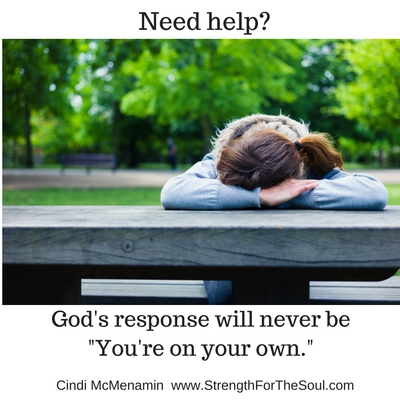 There are a few situations in my life right now that could really stress me out. My husband is waiting to hear about three different job opportunities, and to be honest, he needs at least two of  the three!
Now, I can pull out my hair, and lose sleep at night, and keep calculating what we'll do if he doesn't get any of those jobs. Or, I can realize it is ludicrous for me to worry that God isn't aware, or doesn't care, or won't provide for us in time.
I choose to not be ludicrous. So I thought of five good reasons not to worry about that or anything we tend to worry about. Those five good reasons come down to five things you and I will never hear God say as we hand Him our worries and concerns.
So here they are. You never have to fear any of these responses when you trust God with what is on your heart:
1. You've got this yourself. Instead of putting it back on us, God tells us in Exodus 14:14: "I will fight for you; you need only to be still."
2. I really don't want to hear about it. To the contrary, God wants a relationship with us in which we tell Him all that is on our hearts and minds. Not because He doesn't know, but because He wants the intimacy that develops as we share our hearts with Him. Intimacy is developed through communication. We are told in Psalm 62:8, "Trust in Him at all times…pour out your heart before Him; God is a refuge for us."
3. You don't need Me.  Even if we think God has abandoned us because we've acted independently before, God knows better than we do how very much we DO need Him. In Philippians 4:13, we are told we we can do all things through Christ who strengthens us. The key is Christ's strength. So don't worry about Him thinking you don't need Him. Even when you THINK you don't, you really do.
4. Sorry, it's impossible. Jesus, Himself, said in Matthew 19:26: "With God all things are possible."
5. I don't want to do anything for you. Sometimes we don't tell God what worries us, or even ask for something, because we fear He doesn't want to give us anything. If you're a parent you know how far from the truth that is. Jesus said in Matthew 7:11: "If you then, being evil, know how to give good gifts to your children, how much more will your Father who is in heaven give what is good to those who ask Him!"
There you have it. Does God care? Oh yes. Can He handle it? You bet. Give to Him all that is worrying you today and experience the wonder of His peace.
For books to help you overcome worry, see Women on the Edge (now at its lowest price ever on my website!), and my most recent book, 10 Secrets to Becoming a Worry-Free Mom.