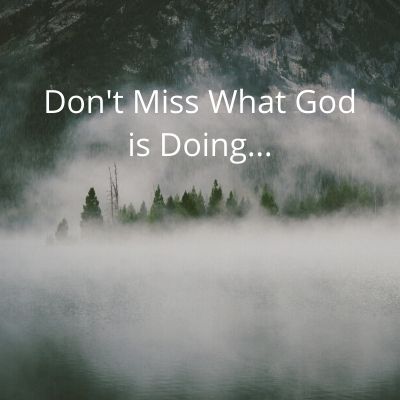 I know life has turned upside down for you. You can't attend church. You can't go to your health club or meet with friends. You may not just be inconvenienced at not being able to do or go where you want, you may be wondering if you can make your next rent or house payment!
We are missing a lot right now. But don't miss the amazing things God is doing during this unprecedented time in which the world is on pause.
God is restoring our priorities.
I was out on one of the walking trails in town recently – keeping the recommended six-foot distance from others – and I noticed couples and families walking together, enjoying the outdoors. They weren't individually scrolling on their phones, they were talking to one another. They were sharing in each other's lives. I hadn't seen that in a while.
Then, while I stood on my "X" in the self-checkout line at Target (six feet away from the next person in line), I noticed a high school boy with his father. He was standing in line behind me, holding a game of Scattergories and a Target gift card in his hand. He's buying a game to play with his dad. Or maybe they are buying it to play together at home as a family. I teared up at that wonderful thought. It took the coronavirus and "social distancing" for families to reconnect with one another. Suddenly we are more concerned about our families than our busy schedules and our personal productivity. We are now more concerned about our physical and spiritual health – and the health of those we love — than our jobs and our income. Only God could do that through a worldwide pandemic.
2. God is restoring our hearts. 
Have you found you have more time to be in God's Word lately? Have you sensed your heart longing for worship since you can't be at church on Sundays? Do you find yourself in praise and gratitude to your Maker each time you get outdoors and breathe the fresh air? God is restoring our hearts by giving us a needed pause from our lives that would otherwise be lived at breakneck speed. If you want to experience the full benefit of what God can do in our hearts when we slow down long enough to listen to Him again, see my book When Women Long for Rest: God's Peace for Your Overwhelmed Life. (It's at its lowest price ever on my website now while supplies last.)
3. God is restoring His creation. 
Here in Southern California we've had much rain (which keeps us indoors more than usual). But as we emerge to take a walk or drive to the grocery store we are seeing clearer skies, more beautiful sunrises and sunsets, and looking at creation with new eyes. My husband shared with me that NASA photos showed significant decrease in pollution over Wuhan China and the rest of China since the economic slowdown just between mid-January and mid-February. Once brown murky skies are now clear and a beautiful light blue. Factories across our nation (and the rest of the world) have ceased polluting our air with chemicals. Less cars on the road amount to less smog here in Southern California and elsewhere. My husband gave me this insight: "Perhaps God is using this time to give His creation a break from our nonstop exploitation, pollution and abuse of the world. He's resetting and restoring creation once again. This is not just a respite for us, but for our Father's world." I couldn't help but feel the same as I walked outside on some walking trails near my home and relished in the beautiful spring colors just starting to emerge, popping against a clear, bright, beautiful blue sky. 
Psalm 24:1 tells us "The earth is the Lord's and the fullness thereof, the world and those who dwell therein" (ESV). He is still on the throne. In the words of the old hymn "This is my Father's World:"
"All nature sings and round me rings the music of the spheres."
How can you not waste this time?  Let God restore your priorities. Let Jesus restore your heart. And look around and marvel at how He's already restoring this earth. 
Learn more in my book When Women Long for Rest about how God arranges the pauses in your life to help you refresh your heart through worship, revive yourself in a spacious place, and return to the joy of simple pleasures, just to name a few.