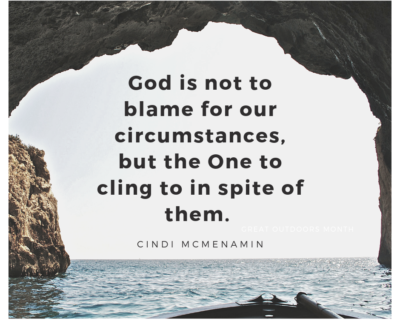 You've probably heard it said a thousand times — "God is good."
Yet one good look at the pain and suffering in this world – like child abuse, human trafficking, terrorism, racial injustice, and crime that appears to go unpunished – can make anyone question God's goodness. And on those days when you and I personally struggle with pain, disease or loss, we can't help but ask – or at least think –Is God really good if He's allowing me to go through this?
In Psalm 18:30, we are assured that God's ways are "perfect" and therefore, He makes no mistakes or oversights. Just because you and I can't see in the midst of every circumstance that God is truly good doesn't mean He's not. Here are just four reasons God is good:
He created us with a choice to obey.
When God created mankind, He didn't make us mindless robots. He gave each of us a choice to surrender our lives to Him and follow Him daily. God wanted a relationship, not a dictatorship with those He created. He wants to govern our lives lovingly, not with a cruel, heavy hand.
Adam and Eve's ability to make their own choices led to sin which has brought pain and suffering into the world in which we live. Gone is the endless honeymoon between man and woman in Paradise and a perfect world in which not a weed, thorn or disease could grow. Mankind's sin resulted in pain, hardships, disease, corruption and ultimately death – both spiritually and physically. Although God remedied our spiritually dead condition by sending His Son to make atonement for our sin, the sin set in motion at the beginning of time has resulted in not only the pain and suffering we experience today, but in every injustice we've seen throughout history.
God is not to blame for our circumstances, but the One to cling to in spite of them and be "our refuge and strength, an ever-present help in trouble" (Psalm 46:1).
2. He found a way to rescue us.
While it might seem like God is unaware of your personal plight, God is ever aware of our eternal plight. So, He found a way to redeem us through the life and blood of His precious Son. God found a way so we don't have to pay the ultimate price for our sin condition. He sent His Son to pay that price.
Romans 5:8 tells us "But God demonstrates His own love toward us, in that while we were yet sinners, Christ died for us."
Jesus also told His followers: "Greater love has no one than this, that one lay down his life for his friends" (John 15:13). That is a good God – One who was willing to die (while innocent of any crime) so He wouldn't have to live eternally without us.
3. He's a good Father.
You may have had a negative experience with a domineering or distant father, but God is nothing like that. Scripture tells us that He is the perfect Heavenly Father, understanding, compassionate and aware of our weaknesses: "As a father has compassion on his children, so the Lord has compassion on those who fear him; for he knows how we are formed, he remembers that we are dust" (Psalm 103:13-14).
God's Word says that He is not only an understanding Father, but One we can approach confidently when we need help (Hebrews 4:16). We are also told in Scripture that, as His children, we can ask Him for anything (1 John 5:14-15). Jesus described His perfect heavenly Father by comparing Him to the good parents we think are: "If you then, being evil, know how to give good gifts to your children, how much more will your Father who is in heaven give what is good to those who ask Him!" (Matthew 7:11). God is not like the father you might have had. He is perfect and good in every way.
4. He allows us to possess His good nature.
Although God knows no one can compare to Him, He is not a selfish, egotistical God who wants no one else to be like Him. It is His goal that we be just like His Son (Romans 8: 29). God actually allows us to share in His virtue and goodness by imparting His nature to us through the indwelling power of the Holy Spirit.
According to Galatians 5:22-23, we can, through His spirit living in us, possess and display the characteristics of love, joy, peace, patience, kindness, goodness, faithfulness, gentleness, and self-control. That is a good God who shares the best part of Himself with us.
Which of these reasons is the most meaningful to you today? I'd love to know in the comment section below. (And watch for "Four More Reasons We Know God is Good" in next week's blog.)