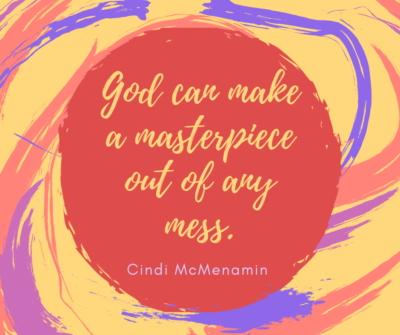 Are disappointments and dashed dreams causing you to struggle with believing God is good?
Last week I helped you answer the question "Is God Really Good?" This week, I'm giving you four more reasons we know God is good, no matter where you are in His plan for your life:
He knows what's best for us eternally.
Perhaps you question God's goodness because You've asked Him for something and He hasn't delivered. God wants the best for you eternally, not just what will make you happy momentarily. God's definition of what is good for us is often very different than ours. He knows what is best for us because He knows all things, not just our present, but our past and our future, as well. He knows what we'll do with what He gives us, and if we'll walk away and forget Him after receiving what we want. He also knows what to give or take from us so that we will cling to Him.
Psalm 84:11 tells us: "…no good thing will he withhold from those who walk uprightly." That verse assures us that if we are walking uprightly before God and asking Him for something good and He is still withholding, either what we are asking for isn't truly good for us, or it isn't time. Trust what He withholds in order to protect you. Trust that He loves you enough to say "no" sometimes. And trust that – unlike an earthly father who might give in to his child just to stop his whining, or spoil a child, not thinking about the long-term consequences – your Heavenly Father knows what's best for you and when it is best to bless you.
2. He is patient and forgiving.
Do you picture God as distant, impatient, and difficult to please? To the contrary, Scripture tells us God is patient, "not wanting anyone to perish, but everyone to come to repentance" (2 Peter 3:9). God has also revealed Himself to all people so that no one has an excuse to deny His existence (Romans 1:19-20). That is a God who is not hiding Himself, but wanting to make Himself known to all so that He can extend His mighty hand to save.
Whenever you and I even question the goodness or trustworthiness of God we offend His holiness (check out the Old Testament book of Job), and He has the ability – and the right – to wipe us off the face of the earth as soon as we do. But He doesn't. Scripture says "The Lord is compassionate and gracious, slow to anger and abounding in lovingkindness" (Psalm 107:8).  
Furthermore, Psalm 145:9 tells us: "The Lord is good to all, and His mercies are over all His works." He causes the sun to shine and the rain to pour on the unrighteous, as well as the righteous. He is a God of second, third, and a million chances and His mercies are "new every morning" (Lamentations 3:23). That is a good God who is waiting to forgive, redeem, and give a new start to anyone who asks.
3.  He works in the midst of our failures.
God is not only good, Himself, but He can make good out of the things in our lives that are bad. He can redeem any person. He can reverse any mistake. And He can make a masterpiece out of any mess.
As a God who specializes in redeeming and restoring and making all things new, He promises to "work all things together for good to those who love Him and are called according to His purpose" (Romans 8:28). When you and I surrender our lives to Him, and then blow it after we have, He is there to pick up the pieces and put them back in new places so the picture of our lives can be even better than it was before. That is beyond good. That is incredible.
4. He doesn't give us what we ultimately deserve.
Scripture tells us "for all have sinned and fall short of the glory of God" (Romans 3:23) and therefore "the wages of sin is death, but the free gift of God is eternal life in Christ Jesus our Lord" (Romans 6:23). Although God's Word assures us that the unrighteous (those who reject Christ) will be punished, it also gives us the wonderful news that God's lovingkindness will prevail when it comes to those who are trusting in Jesus Christ alone for their salvation.
Listen to this verdict from a good God whose very essence is mercy: "He has not dealt with us according to our sins, nor rewarded us according to our iniquities. For as high as the heavens are above the earth, so great is His lovingkindness toward those who fear Him. As far as the east is from the west, so far has He removed our transgressions from us" (Psalm 103:10-12). God's mercy extends to the point that we who are trusting in Christ do not fully get what we deserve from a just God. That is mercy. That is grace. And that is truly good. 
Which of God's aspects of goodness really resonate with you this week? I'd love for you to tell me and my readers in the comment section below.