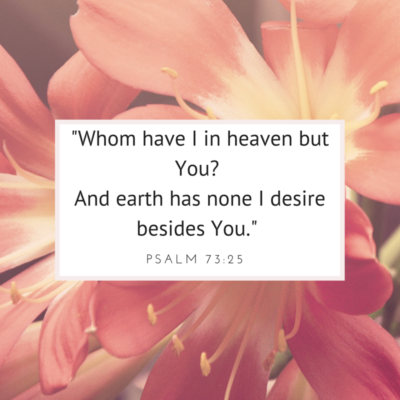 Are you loving Jesus as much today as the first day you decided to follow Him?
I first decided to follow Jesus as a very young child. I  barely remember the actual day. But I remember recommitting my life to Him many times throughout my growing up years.
Now that I'm over 50, I have long called myself a follower of Jesus. I have spent decades instructing others on how to follow Him. But how closely am I  following? How closely are you?
I must admit there are days my passion for Him wanes.  My obedience to Him seems not as important as the day before. My heart follows harder after other loves. And my heat is convicted all over again by the words of Jesus in Matthew 16:24-25:
"If anyone would come after me, let him deny himself and take up his cross and follow me. For whoever would save his life will lose it, but whoever loses his life for my sake will find it."
Other loves can so quickly steal our hearts away. And sometimes that love is for ourselves. The world will tell you "love yourself." But Jesus said "deny yourself" and take up your cross (associate with his death) and follow HIM, not the desires of our own hearts. The more you and I love ourselves, not Him, the easier it is for our "First Love" — which should be Jesus — to become our fourth, fifth or sixth love…or worse yet, somewhere further down the list.
When I whole-heartedly love the One who made me, gave His life for me, and rose again to redeem me and make me more like Himself, I can put myself on the shelf and Jesus on the throne and not worry about my self esteem. I can focus on esteeming Him. The world right now is focused  on empowering women. I say let's follow hard after Jesus, surrendering our lives to Him, so He can be powerful through us.
Do you want to get back to that place where you love Jesus even more than yourself, your husband, your children, your life? Then pray this prayer with me and fall in love with Jesus all over again:
Lord Jesus, I choose once again to follow You. On good days and bad. When I'm motivated and when I'm not. During mountain-top experiences (like being inspired at a women's retreat), to journeys through the valleys (when nothing seems to be going right and hope feels scarce). Give me Your grace to follow closely after You. I don't need personal empowerment. I need Your power running through my veins enabling me to obey You, to love others, and to offer my life as a living sacrifice for Your glory. Be pleased with my life, Lord Jesus, as I love You more and more every day and allow my own ambitions to fade away.
For more  on growing in your relationship with Jesus,  see my book, Letting God Meet Your Emotional Needs or my daily devotional, God's Whispers to a Woman's Heart.