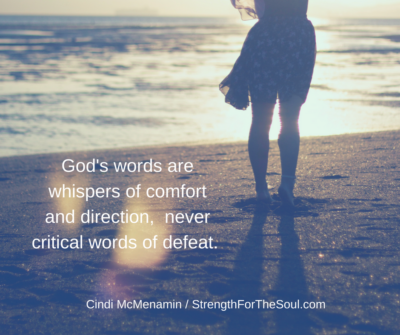 Are you believing debilitating lies without even realizing it?
I wasn't aware that I was until I read Leviticus 5 the other day in my  devotional reading.  God was making provision for the Israelites who sinned in various ways without realizing it. Sometimes certain things offended the holiness and goodness of God and God's people were completely oblivious.  So God's Law stated in Leviticus 5:5 "When anyone realizes their guilt in any of these matters, they must confess in what way they have sinned."
I started thinking about the goodness and holiness of God and ways I might sin against Him without realizing it. And then it came to me. I often believe debilitating thoughts like:
You can't do this
You will surely fail
You are alone in this
God has given up on you
No one — not even God — will come through for you
While those thoughts might seem like they're just being hard on me, they are really cutting at the glory and goodness of God.
Surely, I know the difference by now between the Holy Spirit's discernment and warning and the defeating voice in my head that says "Just give up." When the Holy Spirit is warning or giving me discernment, there is peace and confidence that when I take His direction I am doing the right thing. When that voice in my head tells me to "just give up" there are only feelings of discouragement and defeat.
"for God gave us a spirit not of fear but of power and love and self-control" (2 Timothy 1:7)
Lord, forgive me for the times I've sinned by believing lies that I am not capable, that You have abandoned me, that I might as well give up, that I've lost my edge and am no longer valuable or effective for You. Those lies and doubts are a lack of faith, and my critical nature toward myself is really a critical heart toward YOU and what You can accomplish through me. May my words be that of the Psalmist "I praise you, for I am fearfully and wonderfully made" (Psalm 139:14). And may my words echo Paul's in Philippians 4:13: "I can do all things through Him who strengthens me." 
Thank You, Lord Jesus, that Your words are whispers of comfort and direction — never critical words of defeat.  I will no longer be fearful or full of doubt. 
If you need practice hearing the voice of God, not your own thoughts, see my book God's Whispers to a Woman's Heart. It will teach you to hear Jesus' voice through Scripture and discern your own thoughts from the thoughts of the enemy. Listen for His whispers of Love. He really is FOR you.