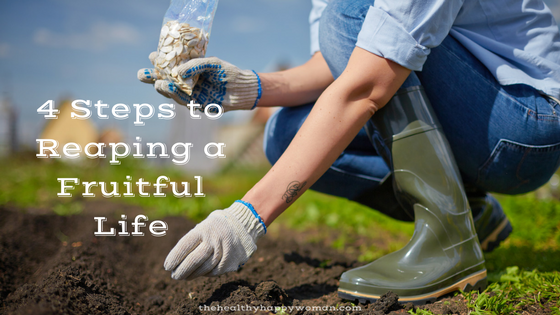 Do you ever find yourself frustrated by life's circumstances?
The Bible has a general "reap what you sow" message, but sometimes we just don't get it.
My friend, Sally Nance, who blogs at TheHealthyHappyWoman.com, shares on my blog this week some tried and true biblical principles of reaping what you sow. And I think you'll be especially encouraged.
Here's Sally's take on Four Steps to Reaping a Fruitful Life:
The principle of sowing and reaping is one that is found throughout Scripture, and it essentially says that the life I'm experiencing today (the life I am reaping) is a direct result of the thoughts, words, and actions of the past (the seeds I have sown).  One Scripture that highlights this principle is found in Galatians 6:7-8:
"Do not be deceived: God is not mocked, for whatever one sows, that will he also reap. For the one who sows to his own flesh will from the flesh reap corruption, but the one who sows to the Spirit will from the Spirit reap eternal life."
We cannot sow anger, bitterness, laziness, harsh words, envy, bad habits, and so on. and expect to reap a life of joy, productivity, close relationships, and vibrant health.  Life doesn't work that way, which is why Paul said, "God is not mocked."  If we want to reap a fruitful life, we must be sowing to the Spirit.  The good news is that by God's grace, it is never too late!  You can pluck up the weeds and crabgrass that have been sown in your past to make way for the beautiful garden of vibrant flowers and luscious fruit.
Using the acronym R.E.A.P., I want to show you 4 steps to sow to the Spirit and reap a fruitful life:
R – Remember the end goal
Start with the end in mind.  If God allows you to live into old age, what do you want your life to look like?  Do you want to have a strong walk with the Lord, close relationships with family and friends, a healthy body and mind?  What will you want to have done with your life?  What kind of legacy do you want to leave? Get specific.  The answers to these questions will help you with the next step!
E – Evaluate what you are currently sowing
Now that you have the end goal in mind, you can evaluate whether the seeds you are currently sowing will reap that kind of life.  For example, if you said you want a close relationship with your husband when you are both old and gray, what are you sowing into that relationship now?  Are you sowing seeds of encouragement or discouragement?  Respect or disrespect?  Love and compassion or indifference and coldness?  Ask the Lord to make it clear what kinds of seeds you are sowing so you that you can make the necessary life changes to reap a fruitful life.  Which leads us to our next step!
A –Apply God's Word by His Spirit
Change comes from knowing and doing God's Word.  Sewing to the Spirit means living a life surrendered to Christ, trusting His Word, and obeying it.  I love how Charles Spurgeon put it:
"…we must sow under the influence of another power. Sowing to the Spirit lifts our sowing altogether above the idea of human merit. He who sows to the Spirit is led and guided by the Spirit of God—led to repent of sin, led to believe in Jesus, led to a new life, led to holiness, led to sanctification and, therefore, he does not take any credit to himself for anything in him that is good, for he knows that it was all implanted there by the Holy Spirit! Ah, my dear hearers, if we would have a good harvest, we must give up sowing to ourselves and must sow to the Spirit."
When you keep the end goal in mind and evaluate what you are currently sowing, you are prepared to see what changes you need to make according to God's Word.  Study God's Word, pray over it, and ask the Lord to transform your life with it by His Spirit.  When you do, you will be sowing to the Spirit and prepared for step 4.
P – Prepare for a fruitful life
When you've gone through steps 1-3, you'll be prepared for the blessed and fruitful life that God has in store.  This doesn't mean that your life will be completely free from trouble and pain – sowing to the Spirit is like any other spiritual discipline – "No discipline seems pleasant at the time, but painful. Later on, however, it produces a harvest of righteousness and peace for those who have been trained by it" (Heb. 12:11).  The weeds in our lives have to be pulled simultaneously with the sowing of good seeds.  But we can rest assured that God will produce a harvest of righteousness and peace as we sow to the Spirit.
What are you reaping in your life right now?  What have you been sowing?  What needs to change?  You are never too old to start sowing to the Spirit and reaping a fruitful life!  God can "restore to you the years that the swarming locusts have eaten" (Joel 2:25).  He delights in redeeming, restoring, and producing fruit in our lives, all for our good and His honor and glory!
Sally Nance is a pastor's wife, homeschool mom, and Certified Holistic Health Coach.  She blogs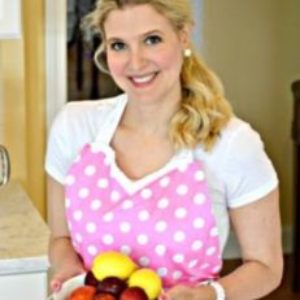 over at The Healthy Happy Woman. Her mission is to empower others to overcome health challenges through nutrition, fitness, supplements, essential oils, healthy habits, and transformed thinking.  You can find her on the web at Thehealthyhappywoman.com and at Facebook and Pinterest and Instagram.