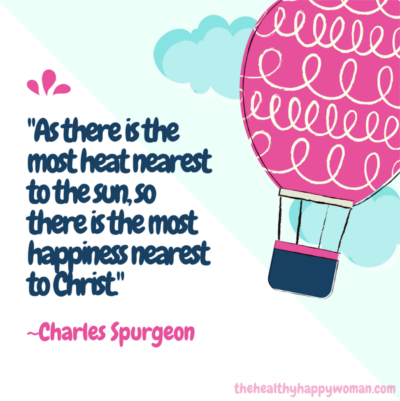 Sally Nance, whose blog is The Healthy Happy Woman, is my guest blogger this week. Here are her thoughts on how to find and practice happiness:
Are you happy?  This question might catch you off guard, and yet, it's one of the most profound questions you can ask yourself.  Perhaps happiness seems like a destination just beyond your reach.  Or maybe you tell yourself things like, "I'll be happy when__________________ (fill in the blank with whatever you think is going to make you happy)!"
But what if I told you that happiness is a spiritual discipline, just as much as reading your Bible or praying, and that it is a direct result of pursuing a vibrant relationship with Christ through His Word?  Charles Spurgeon knew this to be so.  He said, "As there is the most heat nearest to the sun, so there is the most happiness nearest to Christ."
Christian author, Donald Whitney, defines spiritual disciplines as "those practices found in Scripture that promote spiritual growth among believers in the gospel of Jesus Christ. They are habits of devotion, habits of experiential Christianity that have been practiced by God's people since biblical times."
So, is it possible for happiness to be a "habit of devotion" that can be "practiced by God's people"?  I absolutely think so!  Let's look at 3 ways we can practice the spiritual discipline of happiness:
Choose Happiness
As with any discipline, we must make the choice to practice it.  Biblical happiness, then, is not a feeling we wait for but a proactive choice we make each day.
"This is the day the Lord has made; We will rejoice and be glad in it."  Psalm 118:24 (emphasis added).  "We will rejoice and be glad" is a proactive declaration telling our hearts what to feel.  Paul says in Philippians 4:4, "Rejoice in the Lord always. I will say it again: Rejoice!"  This is a command that Paul issues twice in this short verse – Rejoice!  He doesn't say, "Rejoice when you're having a good day" or "Rejoice when you feel like it".  He simply says to "Rejoice in the Lord always."  Choose to be happy in any and every situation, for this pleases the Lord and will ultimately bless you.
Challenge Unhappy Thoughts
Thinking Biblical, happy thoughts is definitely a matter of discipline, and one of the best ways to challenge unhappy thoughts and moods is to get into the habit of asking yourself questions.  This was often done in the Bible to get to the root of any thoughts and feelings of unhappiness.  The Psalmist questions himself in Psalm 42:9, "Why must I go about mourning, oppressed by the enemy?"  Or again in Psalm 43:5, "Why, my soul, are you downcast? Why so disturbed within me?"   He then challenges his downcast and disturbed heart with this truth, recorded in both psalms, "Put your hope in God, for I will yet praise him, my Savior and my God." (Ps. 42:11; Ps. 43:5)  Rather than allowing his circumstances to affect his happiness, he chooses instead (remember #1?) to hope in and praise his Savior.  Challenge your unhappy thoughts and feelings rather than giving them a comfy place in your heart.  As you consistently do this, you will find this discipline helps to protect your happiness.
Chisel God's Word on Your Heart
If you truly want to practice the spiritual discipline of happiness, you must chisel God's Word on your heart.  Choosing happiness and challenging your thoughts are a result of knowing God's Word and hiding it in your heart (Ps. 119:11).  Knowing and doing God's Word are what will bring you ultimate happiness.  Psalm 119:1-2 says, "Blessed are those whose ways are blameless, who walk according to the law of the Lord.  Blessed are those who keep his statutes and seek him with all their heart."
'Blessed' can literally be translated as 'happy.'  The psalmist is essentially saying, "Happy are those who obey God's Word and seek him with all their heart."  So, read God's Word, study it, memorize it, pray it, and obey it (see printable below!).  It is a treasure map that leads us to the ultimate treasure and source of all happiness – God Himself.
Viewing happiness as a spiritual discipline can be life changing, because it means your happiness is not dependent on your circumstances, your background, or other people in your life.   Instead, it's dependent on your willingness to trust and obey your heavenly Father who says to you, "Taste and see that I am good; happy is the one who takes refuge in me." (see Ps. 34:8)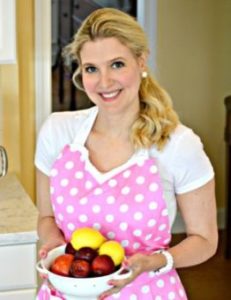 This week's guest blogger, Sally Nance,  is a pastor's wife, 
certified holistic nutritionist, essential oil educator, and homeschooling mama to two boys.  Her passion is to help women find joy in Christ and to overcome health challenges through fitness, nutrition, natural supplements, and essential oils so they can live healthy, happy lives doing what they love.  You can find her on the web at 
http://thehealthyhappywoman.com/
To download Sally's "Happy Scriptures" printable (which would look great in a frame on your desk) click on this link:  bit.ly/hhwhappyheart