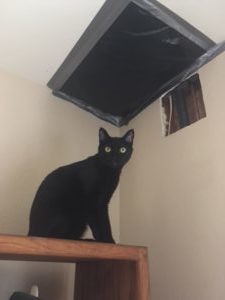 Every time I write a book about something, God makes sure I learn it first.
So what was my lesson behind writing my book, Drama Free?  Actually, God made me learn that one AFTER I'd written the book — two days, in fact, before the book released.
I got up one morning to discover flooding in my garage and water seeping up from my living room carpet in our entryway.
It was a leak in the  water pipe underneath our kitchen  slab! A team of water mitigation specialists came over and set fans out on our carpet,  peeled back our kitchen linoleum,  tore out our cupboards to check for mold on the floor boards,  and then a plumber came over to begin a reroute of the lines underneath our slab to put them in the walls so there would be no more slab leaks.
Suddenly there were eleven holes punched into the drywall in our home. Some in the kitchen ceiling, some in the bathroom, some in the entry way above the front door. In addition, our kitchen was covered in plastic during this reconstruction mess.
To our mischievous kitten, Mowgli, some strange men entered our home and built him a brand new personal playground.  Mowgli immediately began to explore  those holes in the wall, running through the ceiling rafters and making us think he was lost and couldn't find his way out. We tried taping up the holes with large pieces of plastic, but Mowgli found a way to enter the forbidden areas. Each time we left the house and came back again it was a desperate search to find Mowgli whom we could hear overhead, but could not find!
Two days after all this drama started,  I received the first copy from my publisher of my 16th book, Drama Free: Finding Peace When Emotions Overwhelm You.
I realized I had a choice as I held this book in my hands…this book in which I tell others how to be drama free in spite of life's circumstances. I could freak out, and think about what this was going to cost us, and how long we'd be without a kitchen, and how Mowgli might be unknowingly sealed up into the drywall. Or, I could practice what I preach in that book and declare:  "As far as it depends on me, I will be drama free."
I chose to respond maturely to the situation, rather than react emotionally, and I worked the problem. I did the next thing, made the next call, cleaned out the next cabinet, and tried not to think about how long we'd be without water.
Our water line reroute, reconstruction, and eventual remodel lasted three long months. But a month prior to discovering the leak, my family and I had talked about pulling up our carpet and investing in wood flooring downstairs to alleviate the allergies that my daughter and my husband suffer from. (Yes, it's possible they are allergic to Mowgli!).  But we thought let's wait a little longer …let's wait til after tax time to make sure we have the money for it.
And also, a month before that leak happened, we had dreamed of getting rid of our old ugly, stained tile-and-grout  counter tops, and investing in nice smooth granite counter tops hat would be so much easier to keep clean. But new countertops would be so expensive and we thought We don't need to have everything.
So we waited. And then the leak happened.  And everything we would've paid for a couple months earlier — new flooring and new countertops — would've been ripped up and wasted after our leak. But,  as a result of our water leak drama, our homeowner's insurance covered a $15,000 remodel of our entire downstairs, including new wood-laminate flooring, new kitchen cupboards, and — get this — even all new granite counter tops to replace that grungy old tile and grout!  God didn't give us peace about doing it before.  But He allowed a little drama and inconvenience in our lives (for three months) so we could save our money – which is really His money — and He could gift us that new downstairs remodel for free. 
I learned through all of that to trust God in the drama. Trust Him in the mess. Trust Him in the dark when you can't see why something is happening.  Trust Him with the misunderstandings and with the unknown. He knows what He's doing. And He can bless even in the midst of what looks like a mess!
When you pass through the waters, I will be with you;
    and through the rivers, they shall not overwhelm you;
when you walk through fire you shall not be burned,
    and the flame shall not consume you. (Isaiah 43:2, ESV).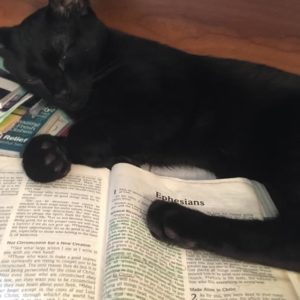 Be like my kitten, Mowgli, and rest on the Word of God the next time drama comes your way.
Do you have a story of how God worked in your life through the drama? I'd love to hear it in the comment section below. I'll award a free copy of my book, Drama Free, to the first several readers who share their story.  (But please make sure you let me know which part of the country you live in. I can only send to U.S. residents or American Post Office boxes.)