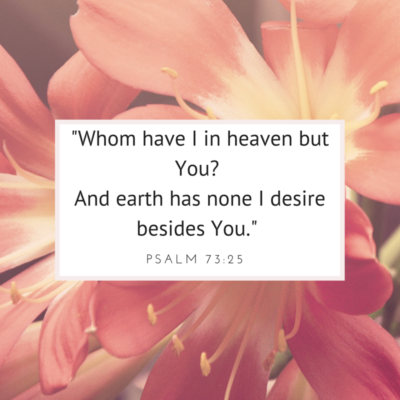 Are you going through a disappointing time right now?
I know what that's like.
I got my hopes up about something, was already praising  God at the prospect of it (that's faith, right? Praising Him before it happens?) and then received the disappointing news — all in the span of a week.
Really, God? Why did you allow me to get my hopes up?
But that disappointment didn't take God by surprise. He had already been preparing me for it …and so much more.
I had been asked to write an article for Crosswalk.com called "Ten Ways We Live Differently When God is our Portion."  I love those verses in the Old Testament about how God is our portion and our very great reward. So I accepted the assignment, thinking I was writing it for my Mom who was going through a time of disappointment and loss. I also prayed that God would give me the words to heal the hearts of whoever would be reading that article, because He knew what they'd be going through and He knew what portions of His Word would be a comfort to them.
As I wrote that article, my prayer was,  Lord, make me one who sees You as my provision, my portion, and my very great reward.
The day that article posted, I read it again, asking God to make that article true in my own life. And then, less than an hour later, I received an email that should've devastated me to the core. But, in that brief moment when we choose how we will respond to disappointing news, I realized the article I had written a week earlier had been for me. God knew that more than the joy of being able to write two more books, I needed to see Him as my portion and my very great reward. Suddenly, I saw His withholding as intense love, not punishment.
I recalled what He laid on my heart to write just a week earlier. When He is our portion:
We don't worry about our provision because in Psalm 16:5-6, David sang "Lord, you alone are my portion and my cup; you make my lot secure…."
We have hope for our future (Lamentations 3:24-26). My hope is in Him, not what I do.
We feel safe in His care (Psalm 145:1-5). He will always take care of His own.
We are content with our lives (Psalm 73:25) simply because we have Him.
We focus on our blessings, not our burdens (Psalm 16:6). He has already abundantly blessed me with more than I deserve.
We can surrender the need to succeed because God told Abraham "I am your shield, your exceedingly great reward" (Genesis 15:1) and Paul understood Christ as His greatest treasure in life (Philippians 3:8-9).
Can you say, in spite of disappointment, or a whole disappointing season of your life, that the Lord is your portion and your very great reward?
Can you be content, knowing you have hope, regardless of what the Lord is choosing to give or withhold from you right now?
Can you surrender the need to succeed because you already have your greatest treasure in life?
These days I am focusing on God as my portion, nothing more, nothing less. Because when we have Jesus, we have it ALL.
To help you see the Lord as your reward through a disappointing time, see my books When God Sees Your Tears and When God Pursues a Woman's Heart,  both on sale on my website through the end of this month.