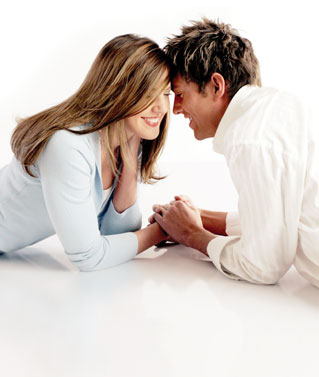 What are you doing to cultivate a closer connection with your spouse this year?
Every January I write new goals for the year to get in better shape mentally, physically, financially, and spiritually.
I was just missing one area.
What was I doing to get in better shape, relationally, with my husband?
So, I initiated our goal-setting process together by asking my husband these three questions:
What do you wish we could do as a couple that we rarely or no longer take the time to do?
What have you always wanted to do together that we haven't yet done?
What, specifically, would you like to see us accomplish together in the next year?
My husband's answers to those questions opened up a whole new arena — and adventure — of yearly goal-setting together. We also ended up incorporating into our lives some things like a weekly day to play, projects we've long talked about and finally accomplished together, and trips we've planned and taken that we might not otherwise have even talked about.
I encourage you to ask your husband those questions above and then come up with some goals of your own for 2015. But if that's too big of a step for now, or if you're frustrated at being the one who has to initiate a closer connection, here's a place to start — five simple goals for a closer connection in the next year:
Start your day with a kiss. Simple, but effective. Studies show couples who kiss each other daily (even a quick peck on the cheek) are happier, overall, than couples who don't.
Say encouraging words. It doesn't take a lot of effort, but it reaps marvelous results. Ephesians 4:29 says "Let everything you say be good and helpful, so that your words will be an encouragement to those who hear them" (NLT). Think in terms of "I'm only going to say it if my spouse is encouraged by it." You'll notice, within days, how your relationship improves.
Plan a regular date night. If you have children and can rarely afford a babysitter, find another couple in the same situation and exchange babysitting once a month so each couple can have a monthly date night. Dating was important before you were married and believe us, it's even more important after you're married.
Read through a relationship-building book together. I know, it might sound like "work" to you or your husband, but it can be fun, and a great investment of your time together. Maybe it will consist of you reading to your husband before bed. Or taking turns reading a chapter to each other once a week. I tried for years to get my husband to read through a relationship book with me and finally he insisted on writing a couples book with me that he — and other men — would enjoy reading (When Couples Walk Together)! Working through a devotional book together will help you see deeper into your spouse's heart, as well as your own.
Pray together regularly. We've heard this advice as often as you have, but it took us years to get to that place. We will admit that, even as a couple in ministry (my husband was a pastor for 22 years), it's difficult to find concentrated time to pray together. But when we started spending just a few minutes praying together before work in the morning, we found that a short prayer also included a hand held, two hearts shared, and a connection with God together that made all the difference in our day. If it's still a struggle in your marriage, pray about how the two of you can make time to pray together.
What will you do in 2015 to cultivate a closer connection with your husband? I'd love to hear your ideas in the comment section below.