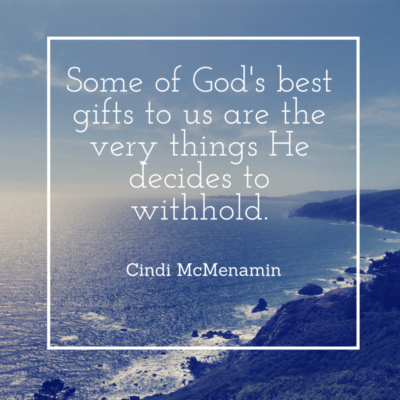 Are you ready for 4  more things you never have to worry about?
I asked you last week to let me know what keeps you awake at  night and, based on your responses (and what I know of God's trustworthy Word) here is another list of 4 things God can control a lot better than you and I can:
1. You never need to worry about being ignorant or relying on your own thinking. God's wisdom is there for the asking. James 1:5-6 says:
If you need wisdom, ask our generous God, and he will give it to you. He will not rebuke you for asking. But when you ask him, be sure that your faith is in God alone. Do not waver, for a person with divided loyalty is as unsettled as a wave of the sea that is blown and tossed by the wind (NLT).
So,  ask God for wisdom and ask for it by faith in Him alone. And as you apply Proverbs 3:5-6, He will straighten the way for you:
Trust in the Lord with all your heart
And do not lean on your own understanding.
In all your ways acknowledge Him,
And He will make your paths straight (NASB).

2. You never need to worry about meeting a godly husband because God's ways and timing are perfect. Psalm 18:30 says: "As for God, his way is perfect: The Lord's word is flawless; he shields all who take refuge in him." I find in this verse a very special guarantee. If God hasn't yet brought someone into your life, He is definitely "shielding" you from what you don't yet see. I find it interesting, too,  that God is also described as a "shield" in Psalm 84:11 which promises that "no good thing will He withhold from those that walk uprightly." Just as you see "meeting a godly husband" as a reward from God, see His ability to "shield" and protect you from a husband as just as much of a reward.
3. You never need to worry about unsaved family members because Scripture assures us "The Lord is not slow about His promise, as some count slowness, but is patient toward you, not wishing for any to perish but for all to come to repentance" (2 Peter 3:9). Ask God for the privilege of being a part of His plan to reach them, either through your words or your prayers. And then pray for their salvation with 1 John 5:14-15 in mind which promises that "if we ask anything according to His will, he hears us. And if we know that he hears us in whatever we ask, we know that we have the requests which we have asked form Him." Pretty big promise. But He's a pretty big God.
4. You never need to worry that God doesn't hear you or has forgotten about you (Isaiah 49:15-16). Just like in No. 2 and No. 3 above, God is your SHIELD as you ask for His blessings, by faith. He will not allow anything to come into your life that is not absolutely best for you. Sometimes a "no" answer means "Wait, the timing isn't yet right." Sometimes it means "Not this…I have something far better." And sometimes it means "I am protecting you by with holding this, even though you may never understand." Sometimes, God's best gifts to us are the very things He withholds. When God's gift is "no" you can be assured He is still God. He is still Good. And He still has your best at heart.
Do you still worry about something that is not on this list? Could it be that if you give it to God you won't need to worry about it at all? Philippians 4:6-7 tells us:
Don't worry about anything; instead, pray about everything. Tell God what you need, and thank him for all he has done.  Then you will experience God's peace, which exceeds anything we can understand. His peace will guard your hearts and minds as you live in Christ Jesus" (NLT).
There really is truth in praying about it and experiencing His peace in return.