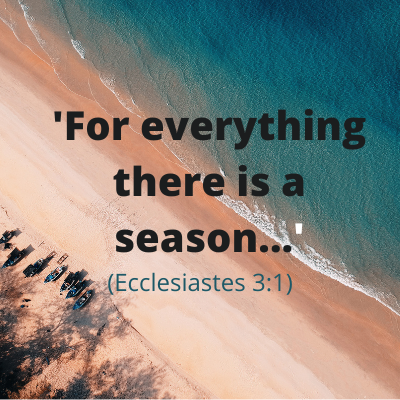 Ecclesiastes 3:1 tells us, "For everything there is a season, and a time for every matter under heaven."
As the season of summer is upon us, what will this be your season for? Healing from a wound, physical or emotional? A new start after feeling stuck all winter and spring? Will it be your season to mourn a loss or your season to celebrate life?
Sometimes we want all the good all the time. Yet life has its ebbs and flows. And I have found that we can still experience joy even in seasons of struggles. (For example, the year 2020 will go down in history as the "worst year ever" yet I rediscovered joy in the simple things like sending gifts to others through the mail, quiet mornings on my patio, and long walks on beautiful trails outdoors.)
Here is a prayer as you start a new month – and the season of summer – to make this your season of growth and a closer walk with Jesus, as that can happen no matter what else is going on in your life.
Lord God,
I offer this month of June, this season of summer, to You. Regardless of what is going on around me, You have given me breath in my lungs and life in my body to live for You. Help me to find ways to celebrate life and the hope I have in You every single day. Open the doors in front of me to walk into Your will. Open my eyes to recognize each opportunity to share Your love and the truth of Your Word with someone who needs it. Each day of this new month, chart me a clear path to be obedient to You and to be used for Your kingdom purposes, no matter how small or seemingly insignificant the work may be. Give me a servant's mindset to see every task in front of me as an opportunity to glorify You so that "whatever [I] do, in word or deed, [I] do everything in the name of the Lord Jesus, giving thanks through Him to God the Father" (Colossians 3:17 NASB).
Lord, help me to do "all things without complaining or arguments" so that I will prove myself to be "blameless and innocent, [a child] of God, above reproach in the midst of a crooked and perverse generation, among whom [I] appear as [a] light in the world" (Philippians 2:14-15). Don't let me be conformed to this world, but may I be "transformed by the renewing of [my] mind, so that [I] may prove what the will of God is, that which is good and acceptable and perfect" (Romans 12:2). Jesus, shine through me so others see Your holiness in my heart and actions.
Lord, this summer may I not be overly focused on me, but ever aware of those around me who need to see and experience Your love. Heavenly Father, help me to understand that others will not come to know You because of my intellectual superiority or my theological astuteness. Your Word says they will know You by the love expressed by Your followers. Remind me daily of Your command to love others as You have loved me. By this all will know that I am Your disciple if I have love for one another (John 13:34-35 NKJV).
Finally, help me to find reasons to celebrate life and my salvation through Jesus, and the hope I have in you every day this summer. Help me to sow kindness, extend grace, show love, and live humbly like my Lord Jesus did. Impress upon my heart that it is more important to be loving to others than to win an argument, more important to be kind, than to be right. Help me to see others through Your loving eyes, love them with Your tender heart, and serve them with the hands and feet You have given me. Don't let me waste this season ahead of me by continuing old patterns of the past. Instead, launch me forward into new growth, new opportunities, and a new confidence to show Jesus to others in everything I say and do. In Jesus' powerful Name, Amen.
For more on growing closer to Jesus this summer, see my books, Letting God Meet Your Emotional Needs, When God Pursues a Woman's Heart, and When Women Long for Rest.