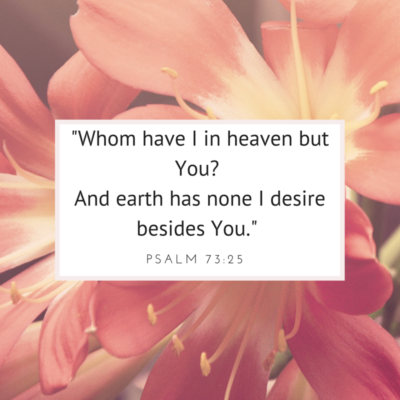 You may have searched for it—I know I have. But perfect love does not exist this side of heaven. Nevertheless, you and I can experience it with the Only One who has promised to—and really can—love us forever.
In a world in which vows are broken, and people constantly let us down with their words and actions, I've come to see that God is still the Only One who satisfies and the Only One who will never disappoint. He is the Perfect Lover of our souls and the One who deserves our entire hearts.
I learned as a young wife and mother that God is the perfect "husband" and can meet me at an emotional level that no one else can. Ever since then, I've been telling women that God is the perfect husband. I've said it to women who are hoping to find a husband, women who are lonely in their marriages, and women who have been betrayed and feel that no one wants them. I even have to remind myself of this fact, even though I've been married to a good man for 35 years.
Isaiah 54:5 tells us, "For your husband is your Maker"; and in Jeremiah 31:3, that perfect "husband" of ours vowed,  "I have loved you with an everlasting love." In Hebrews 13:5, He promises to never leave us or forsake us.
In my book, Letting God Meet Your Emotional Needs, I went into detail about the many ways God husbands us. And just in case you've been let down by someone lately, here is a list of what you will never hear God say to you:
This list of mine reminds me, when I start to put my hope in people, that there is only One who will never disappoint or let me down. It also reminds me that I, too, am guilty of saying some of these things to others and disappointing them, as well (making me the imperfect wife and lover, for sure).
I'm sharing this list with you again today to remind you of how perfect the Living God is…and how extraordinary it is that He wants to have a relationship with you and me:
Psalm 18:30 says: "As for God, his way is perfect…" and I think you'll agree as you read through these words or phrases you'll never hear God say:
Oops.
I forgot.
I'm sorry, I messed up.
I don't know.
What did you say?
I wasn't listening.
Sorry I'm late.
I was wrong.
I'll miss you (because He never lets you out of His sight—Psalm 139:7-12).
We need some time apart.
You did what??
I really don't have time.
But I meant to.
Don't take it personally, but I need My space.
Why Me?
My bad.
I wasn't expecting that.
I'm tired.
I'd rather not hear about it.
I'd rather not talk about it.
I have no idea how to fix this.
This isn't a good time.
I've changed through the years.
I've had it with you.
It's best if we don't talk anymore.
I don't know you anymore.
He said it all in His loving words to you and me in Isaiah 49:15: "Can a woman forget her nursing child And have no compassion on the son of her womb? Even these may forget, but I will not forget you."
That makes my heart want to repeat to Him what the songwriter declared in Psalm 73:25:  "Whom have I in heaven but You? And earth has none I desire besides You."
Wouldn't you like to tell God today how very much you appreciate the way He "husbands" you? Happy Valentine's Day, my friend. In Him, you have found Perfect Love.
Revisit God's perfect love for you in my books, Letting God Meet Your Emotional Needs, When Women Walk Alone, and God's Whispers to a Woman's Heart, all on sale now in my website store.