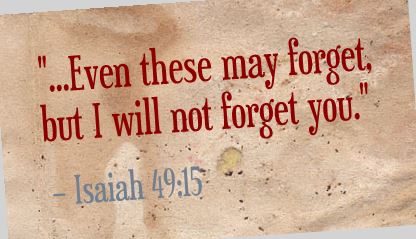 Do you ever stumble upon something from years ago and find that it still touches you today?
I recently found an old  journal I kept during my high school and college years and discovered that what I wrote about my God 30 years ago still applies to His character today.
That tells me that although our situations change throughout the years our God never does.Though we may have forgotten certain heartaches or experiences in which we needed Him, He has not.
I hope this is a gentle reminder to you, too, that His love for you is still constant, His forgiveness is still faithful, and with all that you've been through, He is still the Friend who sticks closer than a brother:
(A letter to Jesus from my college journal in 1987)
"Lord, When I'm lonely and want to talk

Let me bring my thoughts to You.

When I'm discouraged 'cause no one's around

Remind me that You're always there.

When I look to someone for encouragement

Remind me that You are my Source of Strength.

When I want to be with someone who cares,

Remind me that You are my closest friend.

When I expect others to meet my needs

Remind me only You can satisfy.

When I feel I need some comfort and love

Gently remind me of my Father above.
Just as you and I remember the love we had for a tiny child or a best friend we've grown up with through the years, He remembers you and me. And that same love He had for us years ago, He still has today. Be encouraged. You have a friend who has never left your side.