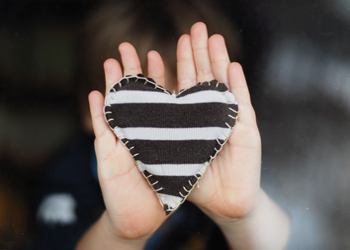 As Valentine's Day approaches, this is often a time when women find themselves longing for more.
Whether your husband appears inattentive to your needs, your boyfriend appears uninterested, or you don't have a man in your life at all, this is actually the time to celebrate what you do have.
God is One who loves you more desperately than anyone ever could. And He did some pretty radical things to show it.
"See, I have engraved you on the palms of my hands…" God says in Isaiah 49:16. God has tattooed us on His palms! That is desperate.
"…I am now going to allure her; I will lead her into the desert and speak tenderly to her" (Hosea 2:14). He strategizes to get us back. That is desperate.
He counts the number of hairs on our heads (Matthew 10:30), records our days in a book (Psalm 139:16), and saves our tears in a bottle (Psalm 56:8). Now that is desperate…almost obsessive!
If we took a good long look at what love really is, we'd recognize that it's right in front of us – and we wouldn't be so easily disappointed by others or seduced by the substitutes.
God's Love is Eternal
Unlike anyone on this earth, God has always known you. And He has always loved you. In the Bible, God tells us, through the Prophet Jeremiah:
I have loved you with an everlasting love; I have drawn you with loving kindness. (Jeremiah 31:3)
An everlasting love. That means there was no beginning to it and there's no end to it, either. It always was. It always will be. That is endless love.
God's Love is Enduring
Over the past several months, several women I know have had husbands walk out on them.
They were left explaining to others what happened to their "love":
He decided, after 30 years of marriage, that he just doesn't want to be married anymore.
He told me he never really loved me, but was just going through the motions.
My husband told me he's had secrets that he can no longer live with so he wants to make a 'fresh start' without me.
Tragically, it happens. We get burned with a selfish example of what someone thinks is "love" or "a loss of love." But just because one who professed to love you fails miserably, doesn't mean that God's love is any less sincere. God's everlasting love waits to pick you up, bind your wounds, and place you on a path of life again…a redeemed, restored life in which you begin to experience what true love really is:
"…For your Maker is your husband – the Lord Almighty is his name – the Holy One of Israel is your Redeemer; he is called the God of all the earth. The LORD will call you back as if you were a wife deserted and distressed in spirit – a wife who married young, only to be rejected," says your God (Isaiah 54:5-6).
God spoke those words through the Prophet Isaiah, to His people, Israel, who had continued to turn their back on Him. Yet God kept coming back for them, as a lovesick husband seeking the return of his wife. In many ways, you and I are like the unfaithful nation Israel was, when it comes to seeking love and fulfillment outside of the realm of God's love. We search for love, and we think we must have a man to complete us, and yet God stands waiting to be our Faithful Husband if we would just look to Him first to meet our needs.
God's love is eternal and enduring. Can any love on this earth compare? Not a chance.
So this Valentine's Day, be encouraged with the fact that the God of this Universe can't get you off of His mind!